Moving Forward with Renewable Fuel…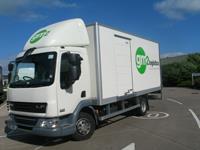 The James McNaughton Group's commitment to investing in renewable fuel has resulted in the adoption of bio-fuel across its logistics fleet.

As part of its ongoing Sustainable Solutions Programme of environmental improvement, the James McNaughton Group's logistics subsidiary, gm2 Logistics, has taken an industry lead and ensured that wherever possible, it will use bio-fuel diesel when filling up its logistics fleet.

This positive move is well in advance of the legislation contained within the Government's Renewable Transport Fuel Obligation (RTFO) that came into effect last month, which sets the target of attaining over 5% bio-fuel, by volume, in transport fuels from April 2010. It has already seen gm2 change all its on-site bunkered fuel over to the 5% mix.

Howard Browning, Director for Corporate Responsibility at the James McNaughton Group says, "We hope that our commitment to developing a more sustainable logistics operation, including the use of bio-fuels and electric vehicles, the implementation of warehouse lighting controls and dynamic route planning, will continue to reduce our environmental impact as well as our bottom line". Browning added, "The only thing preventing us from further increasing the level of bio-fuel our fleet uses, are the manufacturer's warranties of our vehicles, although we do expect this to change in time".

Almost all bio-fuels offer some carbon savings, since the CO2 that is emitted into the atmosphere when they are burned is offset by the amount the crop has absorbed as it grows. Burning fossil fuels, on the other hand, emits carbon into the atmosphere that has been safely locked away under the earth's surface for millions of years.

According to the Department for Transport, "If we were to achieve five per cent bio-fuel sales in the UK, we would deliver a carbon saving from road transport of 2.5 per cent - equivalent to around 0.7 - 0.8 million tonnes of carbon, which is much the same thing (in carbon terms) as taking a million cars off the road".*

For more information about the James McNaughton Group's commitment to sustainable logistics and its wider Sustainable Solutions programme, please see the McNaughton Sustainable Solutions Brochure, which can be downloaded from www.jmcpaper.com, or request a copy by e-mailing info@jmcpaper.com.