CSN S.O.T.M.

It's a Stick Up

They say that good news comes in threes, just ask Steve Johnston at Paper Innovation. The CSN coveted Site of the Month award has been awarded to the manufacturer of those very saleable stick up notes and other innovative printed paper products.

The second and more global award recognises that www.paperinnovation.co.uk stands out for its creative design and functionality. Thirdly, CSN has commissioned our own end user stick up notes to be sent to all our readers to use to gain more print business. This CSN best practice award is a sample of a tested marketing idea in action. Three awards in as many weeks! Well done Steve to all your team.

Do check out the website in advance of those enquiries for personalised print pads in all sorts of shapes and sizes, your experience will prove that there really is more than meets the eye.

The multi award winning website will entice you to order a copy of the new Stick Up product catalogue and request samples.

Just click through the product range for images and descriptions starting with the original classic Stick up notes and alternative types being, transparent, recycled and die-cut. Add a revolutionary magnetic back sheet or upgrade to a card cover, with the executive book note range being the flagship product.

Your customers can choose between mouse mat pads or billboards. The neon page markers in 5 different colours make a sleek and stylish gift that will promote your incentive marketing clients messaging stand out for many months.

We liked the eye catching, uniquely shaped arrow page markers that point to the very best promotions. Organisers deliver notes to go with branding opportunities tailored to best fit all those suits and brief cases.

Our own paper suppliers should invest in the presentation pads and pallets, especially the paper lorries. Come on you print shop merchants, we all love a give away.

Don't forget the non adhesive note pads too as you can now source trade desk, wedge and twister pads or cut sheets encased for that perfect reception point of sale.

The CSN S.O.T.M. award is hereby made to Paper innovation for a great website, great people, great products and all manufactured in Great Britain.
Check out the web links too as new business ideas are always better digested with a bit of sport. www.paperinnovation.co.uk



PAPER INNOVATION WIN INTERNATIONAL AWARD

Preston based Paper Innovation Limited scooped a prestigious international award for best web site. The specialist printing convention held in Thailand was attended by more than 40 member companies from around the world. Managing director Steve Johnston accepted the accolade amongst competition from USA, Germany and Japan.

Quoted Steve "When I heard we had been included in the top 3 nominees I was delighted, but when the winner was announced I was overwhelmed. It was such a proud moment as all the input is Preston based from the product development through photography to web design."

Ever since its inception in 1994, Paper Innovation has produced precisely what the name suggests - innovative, paper based products with the features and benefits of repositionable adhesive technology as a key component in the product portfolio. Their ever popular brand 'Stick-up Notes' have been used by over 10,000 customers.

During the convention, the highlight for Steve was to be entertained by the children from the Ban Than Nam Jai orphanage, this organisation was created as a result of the 2004 Asian Tsunami disaster. Steve said "I was emotionally moved by the sheer talent of these wonderful children who had triumphed against all the odds. The artistry of the children brought the delegates to their feet." During the awards ceremony the delegates raised over 10,000 Euros for the orphans, which subsequently will be used for the education of 9 - 12 year olds.

The children during their performance.





Steve Johnston M.D Paper Innovation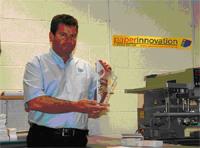 For further information, please contact Steve Johnston:
Tel: 01772 562526
Email: steve@paperinnovation.co.uk