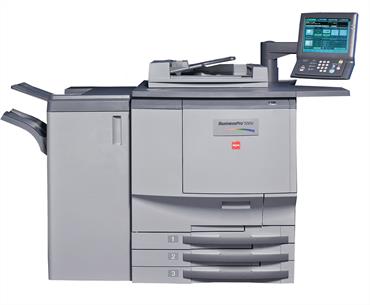 IKON launches two new high-speed printers
IKON Office Solutions has announced the launch of the IKON CPP550 and IKON BusinessPro550, two new additions to its production portfolio.
With the capability to output up to 55 pages per minute (ppm), these colour printing and copying devices are ideal for tackling high volume, short run jobs in both corporate and commercial environments.
The IKON CPP 550 offers speed, flexibility and ease of use for customers looking to expand their colour capabilities in commercial, graphic arts and corporate print environments. It has a variety of production-level finishing options and is available with a choice of Fiery or Creo external controllers.
The BusinessPro550 is designed to meet the exceptional colour quality and fast turnaround requirements of office environments and comes with an embedded Fiery controller as standard.
Both devices are capable of maximum monthly volumes of 80,000 ppm and enhance IKON's growing range of production colour solutions. Marketing Director, Gary Downey says: "We are pleased to launch the IKON CPP550 and IKON BusinessPro550, and expect the high speed digital printing capabilities of these devices to enable corporate and commercial businesses to meet rapidly growing production colour print volumes."