For the last few weeks now we have been inviting the online community to pick from a choice of three Wrap designs, with the one with the most votes, being wrapped onto the FESPA Wrap Rally motorhome.
Well...having ended, we can now announce that the winning design is this...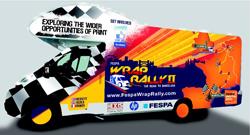 It's now in the hands of the printers and wrappers to turn the big girl into FESPA Wrap Rally bus.
Look out for the video of our visit to see the motorhome soon...
 
You can keep up to date with all Wrap Rally news -  www.fespa.com/wraprally
Rob, Rich, Chris
The FESPA Wrap Rally Team