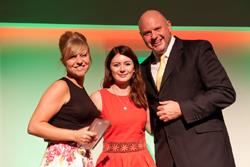 At this year's Fresh Awards, The Chase Creative Consultants scooped the coveted Evolution Green Design award for their 'Almost Extinct' calendar, highlighting the animal species that are getting closer to extinction, and helping to raise funds for the BBC Wildlife Fund.
The awards, which celebrate the best in the creative, digital and media industries had several categories in association with Premier Paper Group. They are  producers of the biggest collection of recycled papers in the UK and sponsored the Evolution Green Design category.
Dave Jones, Marketing Director at Premier Paper, who headed the judging panel for the category was delighted with the quality of this year's entries:
"This is the first year of the Evolution Green Design Award and selecting the winner was a really tough call - the entries were all incredibly impressive and made excellent use of recycled material. I was really pleased to be involved with this category at a time when people appear to be taking eco concerns more seriously.
"The team at The Chase Creative Consultants have proved that going down the eco route doesn't need to stifle creativity. Not only was their product fascinating, it had both ethical and green considerations too."
For more information on the Fresh Awards visit:www.freshdigitalawards.co.uk