FESPA DIGITAL GREEN TRAIL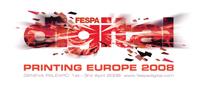 With FESPA Digital Printing Europe 2008 fast approaching as this months CSN goes to bed, FESPA has introduced a new initiative that will help visitors to identify innovative and environmentally friendly exhibitors, thus optimising visitors' available time at the show.

In keeping with the show's Alpine setting, visitors will have access to a 'piste map' showing FESPA's Blue and Green Trails of companies whose products or services are either particularly ground-breaking or 'planet friendly'.

Selection Criteria
Participation in the FESPA Digital Trails required exhibitors to send FESPA a written submission, stating why their products or services should qualify for inclusion on either or both trails. Green Trail product/service submissions had to demonstrate an ability to help printers make their production more environmentally-responsible. Products/services considered for the Blue Trail had to have been launched since FESPA Digital Amsterdam 2006 and fulfil a specific market need or requirement, as well as provide new and worthwhile benefits to users.
In order to achieve a correct and fair assessment of exhibitor submissions, FESPA appointed an independent committee of experts to consider each entry, ensure these entries met the respective criteria and determine the most worthy companies for inclusion on the trails. The two committees each comprised a hand-picked jury of five industry experts, including members of the European large-format/sign industry press, digital/large format company directors, and representatives from environmental bodies, including REACH.

Results
Following a healthy response from exhibitors, the judging panel exercised thoroughness and stringency to eventually select 18 companies for inclusion on each FESPA Digital Trail.