Chain of Custody stocks dominate PaperCo Sales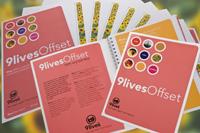 PaperCo expects to increase the proportion of its Chain of Custody accredited product sales to commercial printers from 7% in 2007 to at least 51% by the end of this year. Recycled content grades will account for a further 9-10% of turnover in 2008. This growth reflects the company's emphasis on Corporate Responsibility and its determination to champion the environmental league in paper merchanting.

Marketing Director Bob Ide says: "Our portfolio of Chain of Custody accredited products is set to rocket in the next couple of months as stocks of newly FSC certified qualities, Distinction, Amber Graphic, Amber Preprint, Chromomat, Maine Gloss, Satimat, Ikono and Zeta work their way through to our national network of local merchants. These will be followed mid year by FSC certified stocks of LumiArt, LumiSilk and Lumi Digital and PEFC stocks of Duo products.

"PaperCo is at the forefront of the environmental push, providing first rate advice and information to customers on accreditation processes and the environmental features of the products we offer. Advice can range from explaining the difference between mill broke, pre- and post-consumer waste through to helping customers looking to attain ISO 14001 or Chain of Custody status. We hold seminars, support customers who wish to fulfil their Corporate Responsibility requirements, and assist Governmental bodies seeking to create and maintain user lists of approved recycled and sustainable paper products.

We already have many FSC certified and recycled products in place, including our own highly successful 'born again' 9lives 55, 9lives 80 and 9lives Offset ranges, but 2008 is the year when certified, environmentally responsible stocks will really start to dominate our sales mix," says Mr Ide.

"PaperCo's environmental collection already includes 26 FSC/PEFC accredited products encompassing a variety of coated and uncoated papers and boards, graphic and carton boards, office products, stationery and text and cover stocks.

Customers care about the environmental impact of the resources they use and PaperCo is responding proactively. Our estimates for the sales growth of Chain of Custody products could prove to be conservative but we are certain that well over half of our paper and board sales this year will be for FSC/PEFC accredited products," he says.

In addition to FSC and PEFC products in its portfolio, PaperCo also has a number of high quality, coated and uncoated brands with a high recycled fibre content, many of which carry other accreditations such as the NAPM recycled mark, Nordic Swan or Blue Angel certification. Details of these and the Chain of Custody products are available direct from PaperCo merchants or through its comprehensive web site ( www.paperco.co.uk )

PaperCo's managing director Alistair Gough is set to become the president of the National Association of Paper Merchants in April and high on his agenda is disseminating to the wider public the message that the paper industry is environmentally responsible with sound recycling and sustainability credentials.