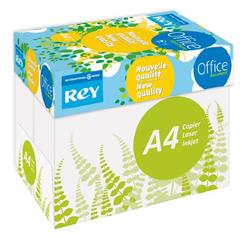 International Paper has announced significant improvements to Rey Office Document, part of its eco-friendly range of Rey Papers.The range has been improved with a new bright white shade of 166 CIE, adding to the consistent high quality reproduction performance of the Rey grades.
The Rey range is produced at International Paper's Saillat mill in France, which is one of the world's best performing sites in terms of CO2 emissions. Since 1990, Saillat has reduced its greenhouse gas emissions by 78%. The Saillat mill uses thinning from certified forests or those that are in the process of becoming certified, with its main forestry supplies located within just 150km of the mill, reducing any transport related environmental impacts such as CO2 emissions.
Saillat also recovers by-products from the furniture and framing industries which represents 27% of its wood supply. In terms of energy efficiencies and performance, some 88% of Saillats energy requirements are met by the on-site production of green energy (biomass).
The Rey Office Document range is PEFC (Programme for the Endorsement of Forest Certification schemes) endorsed, which means that the wood to make the paper is from sustainably managed forests.
The Rey range is also Ecolabel accredited, which is the official European eco-certification. This label is awarded only after strict assessment of a product's impact on the environment - throughout its life cycle from raw material through to distribution.
The Rey Office Document product range is available in the following weights and sizes; Rey Office - A4/A3 80, 90 & 100gsm and Folio sheets in SRA2 80, 90, 100 & 120gsm.
The main distributors in the UK and Ireland of the Rey range are The AIMS Group.
Commenting on the new enhancements, Mike Windett, chairman of the AIMS Group welcomed the shade improvement. He explained, "Rey Office Document has been a key product for the AIMS Group for over a decade and this significant shade improvement will undoubtedly ensure the continued success of this important brand."
 
Mike Robertson, International Paper's Country Manager UK stated, "We have worked very closely with the Aims Group over many years and they have supported our Rey brand in the UK and Ireland.  We are delighted with our new improved quality and look forward to supporting our stockists to grow their sales over the coming months and capitalize on the new improved quality."
For more information on International Paper and its product ranges visit www.internationalpaper.com/uk  or email Mike Robertson  mike.robertson@ipaper.com