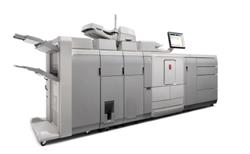 Canon Europe and Océ have announced the next milestone in the journey of Canon and Océ with the launch of two co-developed production printing systems: The Océ VarioPrint DP Line, a series of compelling black and white systems based on breakthrough technology and the Canon imageRUNNER ADVANCE C9000S PRO, a next generation, light production colour printer.
The Océ VarioPrint 95-105-120-135 are powerful, light to mid production printers, combining Océ printing technology, engine and controller with integrated Canon scanning and finishing solutions. It offers excellent image consistency, instant productivity and multiple finishing options in one highly configurable system. There are four engine speeds available in the DP line: 95, 105, 120 and 135 A4 images per minute. At its core is the innovative, Océ DirectPress technology, which does not use light, high temperatures or electrical charges to create an image, making it a reliable alternative to traditional technologies for the black and white market.
Océ DirectPress technology replaces the multiple process steps used in traditional printing technologies with a single, digital, no variable process. The result is a highly stable and consistent quality output without streaks, striping or banding across jobs. The new engine incorporates a diverse range of scanning and finishing capabilities drawn from the successful Canon imagePRESS range enabling customers to demand the highest quality in a wide range of profitable print applications. Precise finishing can be easily achieved due to no toner cracking when folding or creasing and less media distortion as a result of the low fusing temperature.
The Océ VarioPrint DP line also helps customers reduce their environmental impact. HeatXchange technology implemented in the printer saves energy by transferring the heat used to fuse toner onto paper from printed sheets to new sheets entering the print path. By recycling the heat in this way, customers can reduce their energy consumption by at least 30% compared to other systems in its class. The VarioPrint DP Line has the lowest TEC (Typical Energy Consumption) value in the mid production market and can be plugged into a standard power outlet.
Océ DirectPress technology also produces no ozone emissions making for a cleaner working environment for system users. Despite its low energy use, productivity is high, because of EnergyLogic. This technology matches the power requirements of a print job with the available power in the system. It ensures that the system starts printing quickly after a cold start or maintains maximum speed after changing to heavier media.
The incorporation of an Océ PRISMAsync controller gives customers immediate productivity and easier management of complex jobs.
Expanding the joint portfolio further and building on the success of the imageRUNNER ADVANCE C9000 PRO series, the new C9000S PRO integrates Canon colour technology with Océ PRISMAsync controller. Customers can benefit from a solution that offers intuitive operation, ease of use and multiple media and finishing options on one highly efficient and versatile platform.
David Preskett, European Professional Print Director, Canon Europe, says: "The launch of these two jointly developed systems so soon after the Canon imagePRESS C7010VPS is a clear demonstration of the confidence Canon and Océ have in each other's expertise. Not only are we bringing to market another Canon system on the Océ PRISMAsync platform, but also a breakthrough black and white Océ system based on new, co-developed technology"
Nick Klitsie, Vice President Business Group Office and Printroom, Océ, adds: "Our promise to our customers is productive printing without compromise. We are leveraging the strengths of our cut sheet portfolio, in both colour and black and white, across Canon and Océ systems. All seamlessly connected by one powerful controller platform."
The new Océ VarioPrint DP Line is available immediately in the UK and Ireland. Availability of the new Canon imageRUNNER ADVANCE C9000S PRO series in the UK and Ireland will be announced in Q4 2011.

www.canon.co.uk 
www.oce.com.

  .