EPSON'S FESPA DEBUT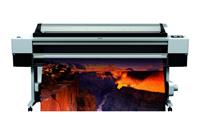 Speaking to us prior to Fespa Epson told us they will be using it as a launch pad to show new technology with which to enter new markets


Epson Europe, exhibiting for the first time, will be showcasing new technology that will deliver higher levels of quality into the digital signage market adding value to POS (point
of sale) advertising, marketing and photo/fine art production.

"We are excited to be making our Fespa Digital debut with new technology
that will enable us to move into new market sectors whilst maintaining our
leading position in the traditional large format printer market," says Claes
Jeppsson, Senior Business Manager LFP, EMEA. "2008 will continue to see
Epson's knowledge and expertise in its core technology enable it to position
inkjet for use in commercial production-orientated applications, such as
Print-for-Pay (PfP), which demand exceptionally high quality combined with
fast turnaround such as POS advertising, quick fire marketing, exhibition
signage and art reproduction."

On show:

Epson Stylus Pro 11880. Epson's first 64" (1.6m) large format printer. Designed for professionals in the photography, fine art (reproduction) and proofing markets, the Stylus Pro 11880 features a MicroPiezo Thin Film PiezoT (TFP) printhead for superior
printing performance and also benefits from being used with the new formulation of UltraChrome K3T with Vivid Magenta.

UltraChrome K3 with Vivid Magenta delivers an expanded colour gamut and
improved ink stability making it an even better choice for professionals in
the high quality signage and fine-art sectors. The full ink set includes
nine ink cartridges: photo black, matte black, light black, light
light-black, cyan, light cyan, yellow, vivid magenta and vivid light
magenta. The two magenta inks use new high-density pigments that create more
vibrant colour, especially blues and magenta, for example those found in
seascapes or landscapes. UltraChrome K3 ink with Vivid Magenta enables superb grey balance and precise colour without any colour cast. It also maintains the superior
features of the UltraChrome K3 ink such as great colour accuracy of neutral
and dark colours, excellent short-term colour stability and smooth tonal
gradation from shadow to light. Furthermore, the issue of metamerism is
virtually eliminated with this ink set.