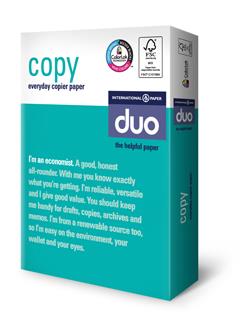 International Paper has announced that its Duo Copy range of paper is being re-launched from the end of September and will now be available with Forest Stewardship Council (FSC) accreditation.The Duo Copy range is manufactured at International Paper's Luiz Antonio mill in Brazil, using virgin wood fibre sourced from sustainable forests.

The Duo Copy paper is the leading office paper brand from International Paper and is part of a family of papers, which include Duo Office and Duo Laser. As a further endorsement of their environmental performance, both Duo Office and Duo Laser are Programme for the Endorsement of Forest Certification (PEFC) certified ranges and are produced at International Paper's Saillat mill in France.
Duo Copy paper is a consistent and reliable grade capable of delivering crisp images and strong colours. Available in 80gsm and sizes A3 and A4, Duo Copy provides excellent value for money and is ideal for high volume applications. Its consistent and reliable quality makes it suitable for copies, archives and similar office documents.
Duo Copy will be stocked and distributed by leading national paper merchant group, PaperCo, which has 8 local and specialist operating divisions trading through 20 service and distribution centres strategically located throughout the UK.
The Duo Copy paper range along with Duo Office and Duo Laser all carry ColorLok Technology branding, which help end users unlock the true power of their papers, providing print outs with bolder blacks, more vivid colours and faster drying times.
Mike Robertson, International Paper's Country Manager UK stated, "Duo Copy has a very long history in the UK Office Papers market and by giving this grade the FSC Certification we are confident that we will help our distributor PaperCo and their customers help meet the demand in the UK for FSC Certified products""

www.internationalpaper.com/uk 


Mike Robertson @ mike.robertson@ipaper.com