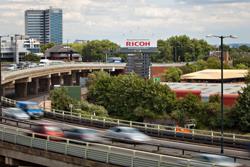 Ricoh UK has unveiled Europe's first 'eco-board', a billboard powered 100 per cent by wind and solar power.  The Ricoh eco-board is the first of its kind in Europe in having dual natural sources of power so that it illuminates only when sufficient power is collected, demonstrating by example the company's long term commitment to sustainable business.
"Our ethos is to go beyond simply meeting regulatory requirements relating to sustainability by proactively promoting environmentally responsible practices in our own business and for our customers.  The launch of the Ricoh eco-board takes us one step further by reminding wider public audiences to act in a sustainable way and think beyond the obvious when it comes to protecting natural resources," said Phil Keoghan, CEO of Ricoh UK.  "At Ricoh, we have been committed to reducing our company's carbon footprint for decades, already achieving zero waste to landfill at major production sites back in 2001.  We are also focused on encouraging our supply chain to adopt sustainable business models that can help protect the environment whilst improving productivity and profits."

The Ricoh eco-board is located on the M4 motorway, which runs from London to London Heathrow airport.

The eco-board is powered by 96 solar panels and five individual wind turbines and forms a key part of Ricoh's overall commitment to raising environmental awareness in the region.  People journeying into the heart of London will pass the eco-board which carries Ricoh's Managed Document Services' message - the company's sustainable approach to streamlining business processes and document workflows.

Ricoh's Sustainability Ethos
The launch of the Ricoh eco-board marks the end of Ricoh's global eco action month which saw UK employees take part in activities to support the company's sustainability and biodiversity commitments as part of Ricoh's endorsement of the annual United Nations World Environment Day on 5th June 2011.  Ricoh has a strong history of sustainability and an environmentally responsible heritage, which can be traced back to the company's founder in 1936.  Ricoh is focused on improving business processes to help customers increase their value in sustainability while reducing their environmental risk through smart products and ways of working.  The company believes that it is the responsibility of every business to help protect the environment and using eco-boards ushers in a new era for its approach to advertising.

Ricoh was recognised as one of the world's most ethical companies for the third year in a row by the Ethisphere Institute for going beyond legal minimums, introducing innovative ideas to benefit the public and forcing its competitors to follow suit by consistently upping the ante for what it takes to be an ethical leader.  Ricoh was also listed for the seventh consecutive year as one of the Global 100 Most Sustainable Corporations, recognising its development of innovative green offerings.
In the 1980s, Ricoh was the first company to introduce digital multi-functional devices to the market.  These combined copier and fax functions or printer and scanner functions, reducing the need for multiple single-function devices.  This resulted in significant reductions in costs and energy consumption.
In 2005 Ricoh was the first company in the industry to introduce biomass plastic into the manufacture of products.  These plastics are recyclable and do not contribute to global warming to such an extent as their petroleum based counterparts. Also that year Ricoh launched a multi-function digital copier made with plastics with 50 per cent plant based materials, increasing to 70 per cent in 2008.
In 2009 they developed colour toner using a unique polyester polymerisation process which fuses at a lower temperature tthan its predecessor, resulting in energy efficiencies.  It also yields more toner per tube resulting in less waste.
The concept for the board was transformed into reality by integrated outdoor services provider Rainmaker, and the site was agreed as part of a five year contract with media owner Outdoor Plus.  The board is located in the London Borough of Hounslow.


To find out more about Ricoh's eco-boards:
Visit www.ricoh-eco.com