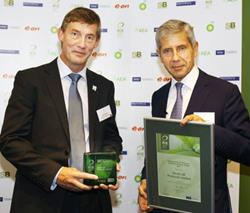 Ricoh UK Products Ltd, a specialist in production printing, office solutions and managed document services, won a top prize at the prestigious Business Commitment to the Environment (BCE) Environmental Leadership Awards ceremony in London.


The company won the Management for Resource Efficiency Premier Award for a series of environmental strategies. Company achievements include zero waste to landfill status since 2001, 38% reduction in CO2 emissions, its green procurement standards, employee engagement and community stakeholder support.


Business services company, The Commercial Group, received a Major Commendation for its environmental programme that combines innovation with high levels of staff involvement, particularly through its Green Angel scheme. Results included reductions in normalised carbon emissions of 75%, waste to landfill by 92% and fleet emissions by 70%.


Twelve companies, ranging in size from SMEs to major PLCs, won major awards or commendations across a number of sectors including construction, food and waste management. The awards were presented by former Marks & Spencer chairman, Sir Stuart Rose.


 "I've been very impressed with the quality of this year's BCE Award winners and commend them for their commitment to the environment, particularly in the face of such challenging economic conditions" said Sir Stuart. "They've really set the bar for other companies."


 "We feel privileged to be joining the many famous companies who have won awards following the BCE's rigorous judging process. To be a part of these awards shows us that our work is being recognised by a distinguished panel of experts. We hope this will lead on to further recognition in the business community," said Ricoh's Colin Weaver, Engineering General Manager.


Work by the Olympic Delivery Authority (ODA) to minimise the environmental impact of new venues and infrastructure for the London 2012 Games won the top award on the night, the prestigious Sir Peter Parker Award.
Founded by Sir Peter Parker in 1975, the BCE Awards scheme is one of the world's longest-running environmental competitions. It celebrates businesses that an independent judging panel recognises as meeting the commercial demands of the present without compromising the environment. The Sir Peter Parker Award is presented to the best overall project.


Premier Awards also went to recycling company, Paper Round; and glass and glazing manufacturer, Pilkington UK Ltd. The UK's sixth largest water and sewerage company Dwr Cymru Welsh Water won a special commendation for Continuous Commitment and Improvement.


A number of other businesses received Major Commendations. These were British Gypsum, EAE Ltd, May Gurney Ltd, Noble Foods Ltd, Skanska, Sweeptech Environmental Services LLP and The Thoughtful Bread Company.


Congratulating the winners, Sir Stuart said: "I know from my own experiences at Marks & Spencer that businesses need to display qualities of leadership, innovation and excellence to succeed with sustainability initiatives. These demanding attributes are also required to win a prestigious BCE Award and all the winners deserve enormous credit.

 
"Businesses will need to show these qualities in spades to adapt in a rapidly changing world. We need to radically alter our business models to cope with a perfect storm of climate change, a growing global population and finite resources. The BCE Awards scheme has pioneered the recognition of companies taking the lead on environmental issues and the winners' achievements are an inspiration to their peers."


The ODA joins an illustrious list of previous high profile BCE Award winners. Over its 35 year history, the BCE Awards scheme hhas attracted some of the most innfluential names in industry, including Kingfisher, ASDA, Unilever, Marks & Spencer and Rolls-Royce.


WRAP (Waste & Resources Action Programme) is the lead sponsor of the 2011 BCE Awards. Main sponsors are AEA, BP, Brunswick Group, E.ON and Sustainable Business.


Applications for the 2012 BCE Awards can now be made via the BCE Awards website (www.bceawards.org ). The closing date for entries is 10 October 2011.