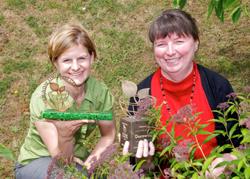 Duraweld has, for the second year running, been named in the annual edition of The SundayTimes Best Green Companies list for its environmentally friendly business practices.


The company was ranked 28th out of 60 companies overall, a leap of 11 places on last year's rank of 39th. They were also placed 5th in their category of 'small companies with medium impact' and were the second highest ranked manufacturing company in the whole list; all as a direct result of their pioneering range of environmentally friendly products and operating a successful 20 point Environmental Policy which consistently delivers positive results.
Alastair McCall of The Sunday Times commented: "May I offer my congratulations to Duraweld on your achievement. It takes confidence and ambition to get involved in a contest like this and subject your green credentials to independent scrutiny by a national newspaper and a leading firm of environmental consultants."


The award was collected by Angie Francksen, Duraweld's Sales Manager and Managing Director Hannah Senior at an awards event which was held at News International's headquarters. At the event the winners were revealed and Duraweld heard for the first time where they had been placed in the list. The results were then printed in The Sunday Times.


Angie Francksen said: "It is fantastic that we have been named in The Sunday Times Best Green Companies List again. It is very rewarding to have our green initiatives and products recognised by such a prestigious organisation.  We constantly strive to develop and maintain our position as a company leading the field in employing environmentally friendly business practices and offering recycled product ranges to our customers, and this is reflected in our leaping up the list to position 28."


This new accolade supports Duraweld's ISO 14001 accreditation and carbon zero status.
Based in Scarborough, North Yorkshire, Duraweld is one of the UK's leading producers of customised presentation, packaging and printed stationery products.  Over the last five decades, the company has constantly invested in new technology and staff development, building a reputation for first class production quality, the highest environmental standards, constant innovation and excellent customer service.


Its product range includes folders, ring binders, dividers, organisers, boxes, conference packs, wallets and badge holders.


 www.duraweld.co.uk.