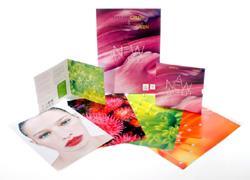 Arjowiggins Graphic has launched  an exciting new marketing campaign, which has been developed to inform designers and printers about the benefits of using its Satimat green and Maine gloss green stocks.


The new campaign consists of colourful, eye-catching mailers and brochures, which showcase the excellent quality finish that can be achieved by using Satimat green and Maine gloss green, two ultra smooth papers that have both high whiteness levels and excellent green credentials.
3,500 mailers and 4,000 brochures are being sent and presented to printers and designers with the aim of advising them on the high quality finish that Satimat green and Maine gloss green provide. Both of these stocks are FSC Mixed Certified 75% Recycled and can be used for both digital and litho presses.


The brochure contains a selection of beautiful photographs that highlight the superb end result that can be achieved when printing on different grammages of the 75% recycled stocks. This proves that there is no need to compromise on quality when choosing recycled paper stocks for marketing communications.
Chris Sandwell, Sales and Marketing Director at Elliott Baxter & Company Ltd, who are the exclusive distributor says: "It is important that printers are aware of products that give a high quality result whilst maintaining recycled fibre content. We have seen a real demand for stocks such as Satimat green and Maine gloss green and, as CSR becomes more of a priority on the business agenda, these products are the perfect choice for end users looking for an excellent quality finish that doesn't compromise green credentials."