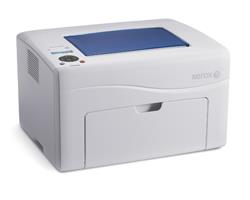 Xerox is helping small and medium sized businesses without breaking budgets with three new printers and a multifunction printer (MFP) that deliver high quality colour in a compact package."The key to growth for any business is attracting and retaining customers. For a small business, that means making a big impression while spending less," said Malcolm Glynn, Marketing Manager, Office, Xerox UK. "These new colour products are an affordable and easy way to create the same outstanding colour documents as larger enterprises."
The Xerox Phaser 6000 and Xerox Phaser 6010 colour printers, Xerox Phaser 6500 colour printer and Xerox WorkCentre 6505 colour multifunction printer generate impressive business graphics like those found in professional presentations and brochures.





Xerox's Emulsion Aggregate Toner Technology combined with 600 x 600 x 4 dpi resolution produces small, more consistent toner particles for crisp text and smooth colour transitions.
Xerox Phaser 6000 and Phaser 6010 colour printers
        •     Starting from £99 for the Phaser 6000 and £139 for the Phaser 6010 
        •     The Phaser 6000 prints 12 black and white pages per minute (ppm) and 10 colour ppm and the Phaser 6010 15 black and white ppm and 12 colour ppm 
        •     Two of the smallest and lightest colour printers on the market, making them a great fit for space constrained small offices 
        •     Plug and play setup and can handle a variety of custom media and sizes, from labels and card stock to envelopes
Xerox Phaser 6500 colour printer/WorkCentre 6505 colour multifunction printer
        •     Starting from £240 and £365, respectively 
        •     Print speeds of 23ppm in colour and black and white, and have a paper capacity up to 500 sheets so print jobs are completed faster 
        •     With manual two sided printing or optional automatic duplexing, paper can be conserved for reduced costs and lower environmental impact.The Phaser 6000 and Phaser 6010, Phaser 6500 and WorkCentre 6505 are all ENERGY STAR® qualified and available immediately through Xerox's direct sales force, resellers, concessionaires and distributors. For more information visit   www.xerox.com.