March Marketing Madness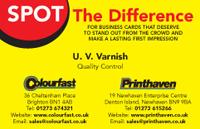 It would seem that we are not alone in having taken
up walking the streets to promote print. Many of you
have been out and about fighting the elements
touting for new business. It is pleasing to know that
last month's spot the difference deluxe business card
has been taken up so successfully by so many print
shops across the UK.

A CSN best practice marketing award must be awarded
to Daud, well done mate www.partnersinprint.co.uk

Following on from these prestige print products Daud is
to share more with us next month showing us how to
make profit from going to the doctor's and looking at
estate agents folders that will help you buck the down
turn in the housing market.

To gain the necessary marketing impetus you may consider a
mini re-launch. No need to change your branding but just
give it a brush over to renew your teams appetite for winning
new business. Your existing customers will reward your
vigour by ordering some additional collateral for
themselves. Positive print is contagious and this has been
proved in our model print shop, PrintHaven. Having caught
the bug somewhere in Brighton it is spreading like wild fire
on Denton Island.

CSN is ten years old in just a few issues and we are looking
forward to making a bit of a celebratory splash. As usual we
are also taking account of where we are and how we got
here. Your ideas please on our direction for the next ten
years will be very welcome. This is all part of our ongoing
marketing to make sure we have the product you need. If we
start to look at ourselves from outside we may want to start
a makeover this side of Easter?

Do let CSN know how your March marketing is getting on and
please share your success through these regular NPC pages.