Talk Paper Recognised at European Office Products Awards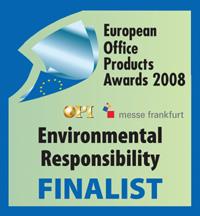 Talk Paper Recognised at European Office Products Awards

Talk Paper, part of the James McNaughton Group, achieved widespread
European recognition as one of six finalists in the 'Environmental
Responsibility' category at the recently held European Office Products Awards
2008.

The awards, which are held annually, took place in Frankfurt during the
Paperworld exhibition. Other finalists in Talk Paper's category included well
known global corporations such as 3M, BIC, HP of Europe, PILOT Corp. and
Brother.

Whilst Talk Paper narrowly missed out on winning the award itself, which was
won by 3M, it was a great achievement and a reflection on how committed they
and the wider McNaughton Group are to environmental responsibility.
Moreover, the achievement is even greater when the calibre and size of other
finalists is taken into account.

Commenting on Talk Paper reaching the finals, Ritu Lukhman, awards
spokesperson, said "The standard was incredibly high and the judging panel
had a very difficult task choosing the winners. To
get to this stage is a great achievement and we
hope that Talk Paper are happy with their
success".

Howard Browning, McNaughton Director for
Corporate Responsibility said, "We are delighted
that Talk Paper has received the recognition it
deserves for the efforts it has made in the fields of
environmental responsibility".

The European Office Products Awards are now firmly established as the ultimate
accolade for organisations operating in Europe. Recognising flair, innovation,
professionalism and business success. The awards are accessible to
organisations of all sizes from across Europe.

For more information on the European Office Products Awards, please go to the
awards website at:
www.opi.net/future events/european awards 2008/introduction.