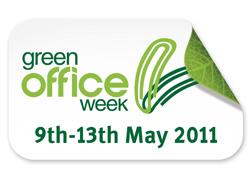 Spring into action this May and help encourage your company to think and act green. Now in its third year the office products company, and great supporter of the event,  Avery hope this Green Office Week (9-13 May 2011) will be bigger and better than ever.  To do this, they need you to take part.  So sign up, get involved and become a Green Office Week Ambassador or Follower at www.greenofficeweek.eu! It's a fantastic opportunity to seed change and help your company flourish, not to mention raise your own profile within the organisation.    As a Green Office Week Follower, you'll be showing your support and you'll have access to a range of online tools featuring lots of helpful, practical advice and resources to make a difference to your work environment.  If you want to get involved in a bigger way, apply to become a Green Office Week Ambassador. Tell Avery what you hope to achieve during the week in your organisation and they'll give you additional support for your efforts.  You could even be named Green Office Ambassador of the Week!  Give fellow Ambassadors a daily update via twitter, facebook or the official campaign blog, take photos of you and your colleagues being eco-friendly, and work through the daily themes to cultivate real change in your office. However you want to get involved, Avery can lend a hand to help you create a 'can do' culture in your workplace and empower colleagues to go green for good.  To support the campaign, all you need to do is visit the website www.greenofficeweek.eu and register.  Remember: nobody can do everything but everyone can do something! Contribute to this worthwhile campaign today. For more information about Green Office Week or Avery, please visit www.greenofficeweek.eu or www.avery.eu.Avery also commissioned research into the subject of 'green' working environments  - the result of which is published below.
'Survey finds managers failing to go green'The YouGov research found only a third of those surveyed think their managers are clear about the steps that can be taken.The poll, carried out for this year's Green Office Week, also found that only 17% of respondents think their office is 'very or completely green', with more than a quarter, 28%, saying it is 'still not very green'. A number of factors prevent people being greener at work. A quarter of workers (24%) highlighted a lack of encouragement, 19% said there was too much effort involved, 18% referred to cost and 16% blamed a lack of information on how to go about it. 

Avery's third annual Green Office Week is an award winning initiative designed to address some of these concerns and encourage office workers to spring into action and adopt practical ways to help the environment.
Between Monday 9 and Friday 13 May, a series of daily tips can be found at www.greenofficeweek.eu along with downloadable resources.

At the same time, a voluntary network of Green Office Week Ambassadors up and down the country will promote daily themes involving action on energy, transport, waste and other green issues. They will post blogs about their activities and share good practice with other green-minded individuals.

As well as raising awareness, the week will encourage offices to review purchasing habits in line with environmental targets, devise action plans for the future and celebrate the achievements of people who consider the environment at work.

Avery won the 'Green Champions (CCustomers)' Award for last year's Green Office Week at the 2010 Green Business Awards, the UK's most comprehensive awards scheme for environmental business performance.

Green Office Week

Green Office Week empowers UK workers to make a difference and to help their office environment work for the natural environment in practical ways. Research has shown that office workers are not apathetic towards green issues but are disempowered by lack of knowledge and facilities.