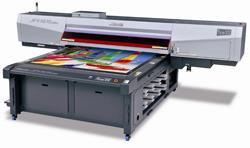 This year's Sign and Digital UK show will see the unveiling of the new Mimaki JFX-1615plus by their exclusive UK and Ireland distributer, Hybrid Services Ltd. Already an award winner following its international launch, the Mimaki JFX-1615plus shares the same fast, high quality LED UV curable ink technology of its big brother, the JFX-1631plus; but with a bed size of 1.6m x 1.5m it provides a true flatbed solution for companies with a smaller format print requirement.
Mimaki's new JFXplus series features a post-curing unit as standard that enables printing of up to 23.6m2/h - a top speed that is nearly twice as fast as its predecessor. Additionally, a roll unit has been developed to boost efficiency and productivity when printing on flexible substrates, and printing capacity is maximised through the UV LED system requiring no warm up time.

Hybrid's national sales manager, John de la Roche, highlights the benefits of the JFX-1615plus to Sign and Digital UK visitors, commenting that, "The JFXplus has the ability to print onto non coated substrates up to a thickness of 50mm, and the added advantage of having two ink options (hard and flexible UV curable inks) to suit different applications really opens up its creative potential."
"The new Mimaki flatbed is a versatile product with the capacity to produce high quality images and even 3pt text. Couple this with the affordability of the smaller model Mimaki JFX-1615plus and its ideal position in the market for more industrial, bespoke applications, and you can see why we are so keen for it to be showcased at this year's Sign and Digital UK exhibition."
The new flatbed will feature on Hybrid's stand - right at the entrance to the halls - alongside their substantial range of other UV, outdoor durable and textile printer and cutter solutions. For information on these or any other Mimaki products, contact Hybrid on 01270 501900 or visit www.hybridservices.co.uk.