Océ Green School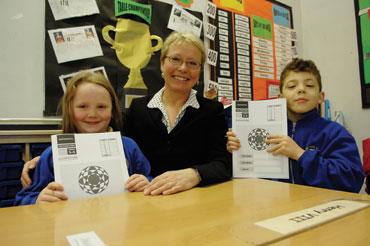 Children from a London school were amongst the first end-users to benefit from Océ's industry-leading sustainable printing initiative Carbon Plus + when they took their mock SAT exams last month.
At Digital Print World, Océ used its Océ VarioPrint 6000 to produce hundreds of SAT exam papers that will be used by St Cuthbert School in Earls Court for mock exams for the coming years. In addition, Océ printed innovative 'Student of the Week' certificates on its Océ CPS900 colour print engine, which for the first time could be personalised to each individual class and produced in a more economic-sized print run.
Ilona Buttinger, head teacher at St Cuthbert with St Matthias CE School, said, We are delighted with the results our partnership with Océ has delivered. Not only do we have enough high-quality exam papers and certificates to last us for years to come, we had enough to give to some of the other schools in the area. Another positive is that we know the documents have been printed in the most environmentally-friendly and cost-effective way possible thanks to Océ's technology. We estimate we have saved lots of time and hundreds of pounds, which we can now use elsewhere to the benefit of our pupils."
Océ boosted its environmental credentials at Digital Print World with the launch of an industry-first carbon offsetting scheme. St Cuthbert school was amongst the first end-users to benefit from the carbon neutral initiative. In addition to being produced on printers that produce little or no ozone, have lower toner usage and contain recycled components, the exam papers were printed on Océ Imaging Supplies Recycled Extra White Paper and the Forest Stewardship Council (FSC) accredited Océ Blue Label paper.
Ed Hudson, marketing manager at Océ, said, "To complement the significant environmental commitment we made at Digital Print World, we wanted to make sure everything we did at the show was as sustainable as possible. Instead of printing random examples that would be discarded after the show to demonstrate the capabilities of our digital presses, we wanted to make sure all the output was usable. It therefore made sense to form a partnership like this and pleased the school is realising the benefits."