Challenge to Share Environmental Ideas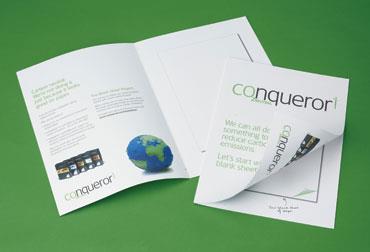 Arjowiggins, a leading manufacturer of creative high-tech materials and papers, is challenging printers to share their ideas about how the industry can reduce carbon emissions by targeting them with 16,000 tailored direct mailers.
The direct mail activity is the latest stage in Arjowiggins Blank Sheet Project www.conqueror.com/blanksheet, a new campaign to support the recent news that Conqueror is Europe's first CarbonNeutral fine paper brand and that it will only use pulp taken from FSC certified sources across the entire range.
The Blank Sheet Project aims to engage businesses in a high-profile environmental debate by asking them to submit their ideas either online or via a blank sheet of Conqueror CarbonNeutral paper included in the mailers. The best ideas submitted will then be published on an online forum and sent to the nations key political and environmental opinion formers in early 2008.
As well as printers, a further 24,000 mailers tailored for each audience are being sent to SMEs, CEOs, CSR directors, and existing customers in order to engage the wider business community in this important debate.
David Cook, UK and Ireland Sales and Marketing Director at Arjowiggins, comments, "The success of this campaign is dependent on feedback from printers. We want them to share their thoughts on the small steps we can all take to reduce our industry's impact on climate change. However, this is not just a campaign for the print and paper industry, but one that stretches across all businesses. By engaging with end users we hope to drive customer demand for paper, whilst helping to raise awareness of what is a big issue and help businesses think about how easy it is to make a difference and take these small steps."
As well as achieving CarbonNeutral status, Conqueror now only uses pulp taken from FSC certified sources across the entire range, promoting the use of well managed forests. This means that by stocking Conqueror CarbonNeutral, printers will be able to provide customers with a paper solution that offers the highest environmental credentials without compromising on a quality finish.
The move is the latest stage in Arjowiggins implementation of industry leading environmental best practice. As well as constantly expanding its recycled range, Arjowiggins will be using elemental chlorine free pulp and certifying its mills to ISO14001.
The direct mailers will be distributed through some of the UK's leading paper merchants including, Antalis, PaperCo, Ovenden Papers, Davis Harvey & Murrell Papers, Robert Horne and Elliot Baxter.