Colourfast Puts Data Copy To The Test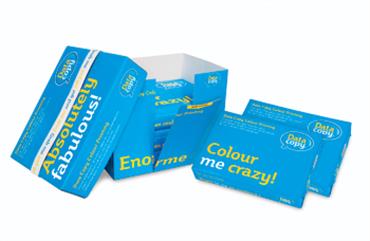 The team at CSN are always looking for new products to test and our most recent project was with Data Copy Colour Printing. Data Copy, a brand that has been around since 1983, is produced by M-real, one of Europe's leading paper manufacturers. So, we jumped at the chance to test their latest product.

The story behind Data Copy Colour PrintingWe've all seen the improvements in colour printing over the last few years. The improved quality and the affordable prices of colour equipment has resulted in more offices using colour in house. This trend is one reason behind Data Copy Colour Printing.M-real's extensive research also showed that many end users were tired of confusing paper ranges. The research suggested people wanted a simple, cost-effective paper solution: one for all their office print jobs, colour, black-and-white, laser or inkjet.So the new Data Copy range was born with the original Data Copy becoming Data Copy Everyday Printing and the addition of Data Copy Colour Printing. The new grade was developed as a cost-effective and easy to use alternative to higher priced, laser specific colour printing papers.

Taking a test driveM-real delivered 200 reams of Data Copy Colour Printing 100 gsm paper to us at Colourfast and we received a visit from Robert Bremer, Technical Customer Services Manager for M-real Office Papers, and Paul O'Shaughnessy, Regional Marketing Manager, M-real UK. With Robert and Paul, we ran test prints on our machines and agreed there was no discernible difference between the Data Copy Colour Printing results and our normal results. We were asked to print a wide variety of jobs on different machines and to include low and high volume jobs. We also were given comments sheets for each job and asked to keep a sample of each job for comparison.The types of jobs we tested Data Copy Colour Printing on were:
• Full colour booklets and brochures, folded and stapled
• Full colour, double-sided comic book, folded and stapled
• Full colour, single and double-sided A4 sheets, laminated
• Full colour, double-sided DL leaflets
• Full colour letterhead and compliment slips
• Two colour conference pads

What did we think?Overall we were very pleased with the Data Copy Colour Printing results, and our customers were too. We didn't have a single paper jam in any of our machines which is pretty impressive. And it certainly impressed the Colourfast team who were thrilled not to have the hassle of unjamming printers and starting print runs again!We found the paper suitable for double-sided colour print jobs. There was very little show through on these jobs and the paper held the colour well. One comment from one of our team was "Colours looked nice and bright and the paper felt really smooth even after colour was on both sides."On the jobs that required folding, stapling or laminating, we also found the paper up to the job. There were no problems with folding or stapling and, when laminating, the paper went through the machine well for a bubble-free result.The only downside we found to the paper was that it wasn't quite smooth enough to give a real shine to the prints. On quite a lot of print jobs we preferred the lower shine result, but on some print jobs, like images, we would have liked a bit more shine and life. So, in a nutshell, we think Data Copy Colour Printing is definitely worth a look. Try it out for yourself and let us know how it goes for you. It certainly went well for us. And, it's a great product to recommend to your customers for their use at home or in the office as it works in any machine, inkjet or laser.

M-real commentsPaul O'Shaughnessy said "Data Copy Colour Printing was designed as a cost-effective, multi-functional alternative to more expensive, colour laser papers. On 80 - 90% of jobs it gives a good glossy effect. For the few jobs that need a glossier finish, a speciality colour laser paper should be used, although this will cost more."

Where to find Data CopyData Copy Colour Printing is available in 90, 100, 120 and 160gsm in A4, and 90 and 100gsm in A4, A3 and SRA3.For more information on Data Copy Colour Printing visit www.datacopy.com or email info@datacopy.com.