Roland extends metallic ink printer range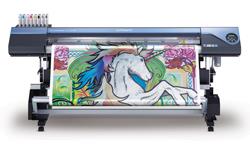 Following the strong uptake of the VersaCAMM VS-640 with its metallic and white ink capabilities, Roland DG (UK) has extended the choice offered by its innovative print and cut technology with the addition of three cost effective more compact models. Designated the VersaCAMM VS-540, VS-420 and VS-300, the 1.37 m, 1.07 m and 0.76 m printers utilise the same dedicated feed and print-head mechanism as the 1.62 m version, offering users the benefits of advanced ink handling technology and high quality results.

The versatile Roland VersaCAMM VS family is available in three options, with a CMYKLcLm configuration plus metallic and white and a standard six colour ink version. The third solution for users wanting to benefit from fast, economical production is for dual CMYK which is aligned in a mirrored array for achieving quality output at higher production speeds.
The VersaCAMM VS series also benefits from Roland OnSupport which gives users remote tracking capabilities of their printers' activities. This on-line support system automatically sends e-mails direct to a computer or mobile phone with important notifications, such as when a job has been completed or when ink is running low. This feature enables the printer to run unattended as operators can rely on receiving real time critical production information when they are away from the machine.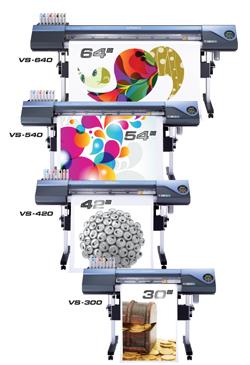 Being able to run the machine unattended is also enhanced by the printer's advanced media handling system. The take up unit on the VS enables it to automatically rewind the media after printing so that it's perfectly positioned for the subsequent contour cutting. Once complete, it then moves the contour cut output onto the take up, all without any operator intervention.

In common with their larger counterpart, the three new Roland VersaCAMM VS machines are designed from the ground up to incorporate the company's Eco-Sol Max metallic and white inks. These are complemented by CMYKLcLm which, combined with the specially configured print-head array, output stunning results that also benefit from the company's library of more than 500 metallic shades.

It is straightforward to integrate metallic colours, pearlescent shades and white into signs and displays onto all industry standard materials which are compatible with Roland's Eco-Sol Max inks. The VersaCAMM VS family also benefits from the company's pioneering print and cut capabilities, enabling precision contour cutting of signs, stickers, decals and labels all of which can be raised to new creative dimensions with the inclusion of metallic and white elements.
Spurred on by the immediate success following the initial launch of metallic ink in its SolJet Pro III XC-540MT print and cut machine, Roland designed and engineered the very compact and remarkably low-priced VersaCAMM VS-640. This machine, which was launched in February 2010, takes precision one step further with a newly designed print-head configured in an array to enable high-speed bi-directional production without banding.

The construction of the ink feed in the VersaCAMM VS series is designed to accommodate the viscosity of both metallic and white formulations, ensuring accurate and seamless integration with the standard colour palette. Users are guaranteed easy and consistent operation, with Roland's recirculation system keeping the inks mixed and in the correct suspension which eliminates clogging of the particles and costly, time consuming maintenance and cleaning cycles.
Roland's Intelligent Pass Control and the greater range from the variable dots generated by the new generation print-head result in consistently vibrant and accurate output, with smooth gradations and vivid solid shades. The integrated recirculation function in the VersaCAMM VS range of machines means that there are no fluctuations in density, and the correct combination of metallic, white and colours is assured during printing.

Aware of the opportunities available using metallic and white inks in a versatile print and cut unit, Roland's decision to launch three smaller versions of its existing low-cost 1.62 m machine brings the technology within reach of the growing volumes of users wanting a compact solution for narrower width production. This is particularly important for the label and decal market sectors, both of which are becoming vital areas for sign-makers, display producers and commercial printers looking for higher margin, top quality ink-jet applications.

Because all Roland printers are supplied with the company's versatile VersaWorks RIP, it is easy for users to integrate metallics and white into their workflow without having to invest in additional software. Using any industry standard graphics' package, the RIP interprets the metallic layers available in the Roland Color System Library and blends them with process colours and white for dazzling results formerly only achievable using the screen process or offset litho. 
"Roland's decision to offer a choice of sizes in its cost-effective VersaCAMM VS series is typical of the company's pioneering approach to present day and future market needs," states Brett Newman, technical director at Roland DG (UK). "Roland is leading the field with its Eco-Sol Max metallic ink, now in its second generation, configuring it within printers which are specifically designed to handle both this chemistry and our own white ink formulation."

www.rolanddg.co.uk