Great Show - DPW Review
Well worth the visit, lots of new kit and old faces, just how we like it. Digital Print World has built on this success and will now evolve into Total Print Expo for 2008. The name change reflects market growth and focus on 'added value' products and services.Digital Print World was declared a resounding success by exhibitors and visitors alike as it closed its doors in its present format last month. Next year DPW will become part of a new event for us frontline printers - Total Print Expo (14th-16th October 2008, Earls Court 2, London). Expect to see more front end web driven solutions as well as our favourite grey boxes.The message came across loud and clear: print today is customer-driven, not technology-driven. "Technology will come and go. The challenge we face is one of sales and marketing," said Kevin O'Donnell from Xerox. "It is six times more costly to acquire a new customer than it is to keep an existing one."An interesting question at the seminar, 'Is finishing holding back the digital market?' drew this response from Quen Baum, Managing Director of Morgana: "The problem is that finishing is treated as a poor relation. People will invest significant amounts in print but finishing is an afterthought. If you want to make a profit, get the bindery right before you start selling pages and documents. If you have a digital press you can't expect to pull out a 20-year-old folder and give your customer a good job. Start with the finished document and work your way back."Who Said WhatBYTES "The show has been beyond our expectations, The quality of visitors has been very high and it's been an excellent place to launch a new product. The feedback has been excellent." Douglas Gibson, Product Manager, Byte.WATKISS "We had a lot of people come to our stand that we hadn't encountered before, which is very important to us. The visitors were also suited and booted and ready to do business." Jo WatkissRENZ "It was a last-minute decision to come here and we have a much smaller scale than we would normally have but it has been surprisingly successful. We've seen a lot of genuine key buyers and have probably made sales in excess of £50k." Daniel Pooley, Sales and Marketing Manager.MORGANA "We're delighted to have the opportunity to showcase Morgana as the No1 in digital finishing. We have our partners all around us, such as Canon, HP and Kodak. I would love to see a bigger show. If London and the industry can't fill Earls Court 2 then there is a problem. The key players should support Total Print! Expo." Quen Baum, Managing Director.KONICA MINOLTA "We have seen good quality potential customers and taken several orders at the show. There has been a real mix of litho, corporate and local government which reflects the broad interest in digital print solutions. The show has been such a success that we have rebooked for next year." Clare Revill, National Sales Manager, Konica Monolta. CANON "I am pleasantly surprised at the numbers. We have hit all our targets with four orders for the ImagePress C700VP. There has been a real interest not only in digital engines but also in workflow and support and advice. This demonstrates the move to service providers with people looking for value added for growth through cross selling and up selling". Ben Milford, Head of Professional Marketing, Canon.GAE "Interest has been very good throughout the show with lots of visitors and enquiries. Printers are looking at how they can add value to their business with creative finishing solutions and our product range has sparked considerable interest." Tony Hards, Joint MD.XERETEC "We have had a fantastic show selling £500,000 worth of kit on the stand and more to come after the show. The quality of visitors has been excellent, they want to buy and know what they are after. It's also a great social event." Steve Hawkins, MD, Xeretec.GBC "The show has been a good one for us. There has been a lot of interest and the quality of the enquiries tells us that GBC's laminating systems are highly regarded. Wednesday was the busiest day. We had a continuous stream of visitors seriously looking to purchase. We now have at least 4 deals on the table ready for final completion and several other solid leads. We are delighted." Lenny McCalla, Area Sales Manager UK & IrelandROLAND "Digital Print World has been a great success for both Roland DG and PaperCo. We've had a great flow of visitors to the stand to view our new range of wide format machines, including the AdvancedJet™ AJ-740 and SolJet III XJ-740 which have made their UK debut here. Our new EcoXtreme™ LT ink, which has been officially introduced to the UK market at the show, has also attracted considerable interest. We've all been very impressed with both the number and calibre of visitors this year and are looking forward to
building on this success in the coming months." James Hobday, head of Sales, Roland DG (UK).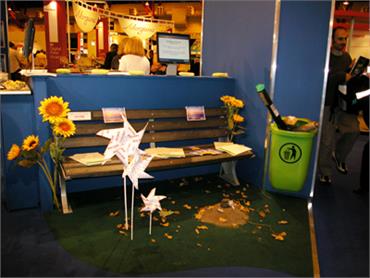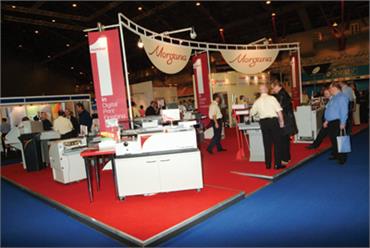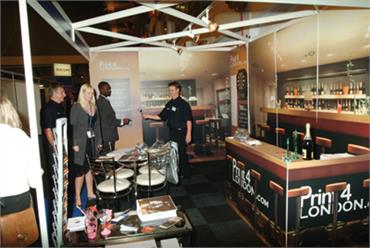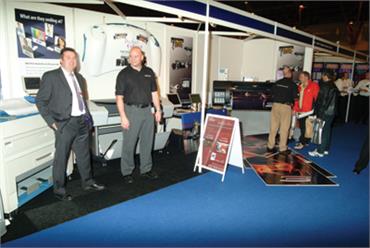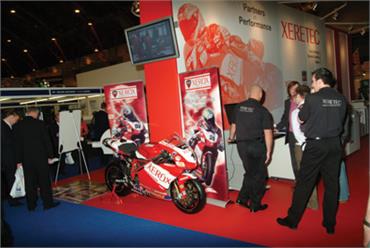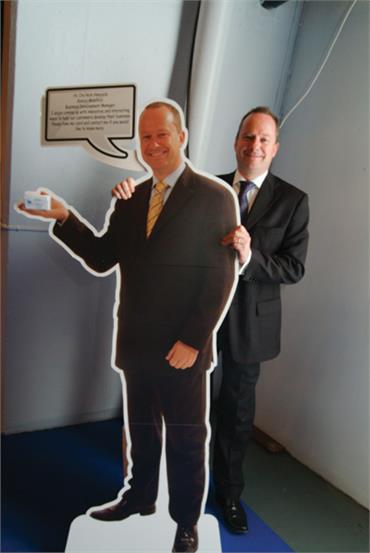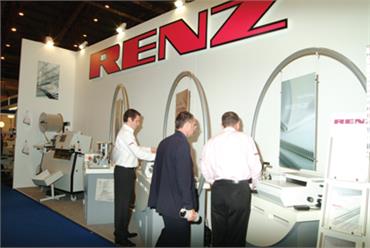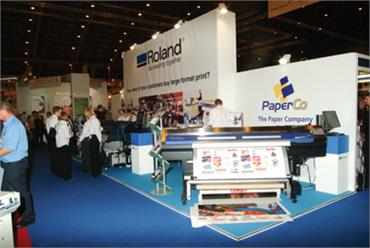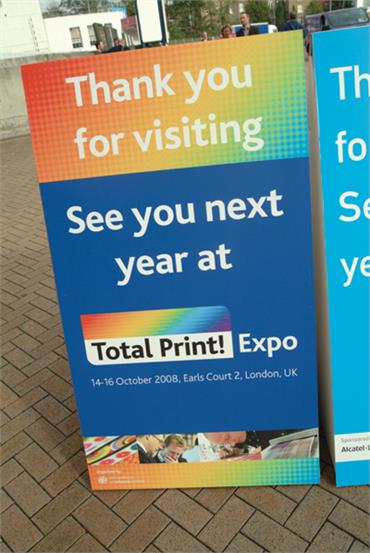 CSN / DPW 2007 Show Awards

BEST PRE-PRESS SOFTWARE
Bytes Technology Group: Web driven print

BEST COLOUR DIGITAL PRINTER / PRESS
Xeretech: Xerox Docucolor 8000 AP

BEST NEW PRODUCT LAUNCH
Konica Minolta: Perfect Binder with bizhub PRO C6500e

BEST FINISHING EQUIPMENT
Watkiss Automation: PowerSquare book maker

BEST PROMOTIONAL GOODS OPPORTUNITY
The Magic Touch: Wow Transfers

BEST NEW LARGE FORMAT PRINTER
Roland: New Soljet 740 Range

BEST ENVIRONMENTAL INNOVATION
Ricoh

BEST STAND RECEPTION
Konica Minolta

BEST STAND AT SHOW
Morgana