Doubledot Clean Up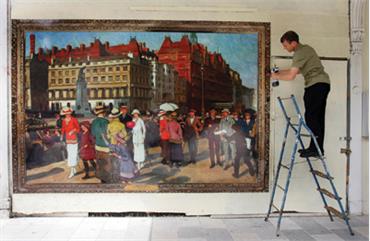 New technology and innovation constantly changes the world we live in. It affects every aspect of our lives and can improve where we live. Following the successful install of one of the UK's first ColourSpan 5465 printers at his base near Brighton, we asked Tony Brothers, MD of Doubledot, how changing print technology has affected his business and market over the years.Tony Brothers was a national divisional sales manager for Agfa when the opportunity arose to purchase an image setting bureau called Doubledot, based in West Sussex.The company was originally founded in 1990 and Tony acquired it in 1994. After restructuring, building up and employing staff, the company grew significantly, supplying film to hundreds of design and ad agencies in the south of England. However, with the onslaught of Computer-to-Plate and the influx of new technologies affecting the image setting business, the company had to look at alternatives to continue its success. Having looked at several options, it was decided to purchase a large format printer - the HP Designjet 5000 - and it changed the business forever.Tony explains, "We definitely chose the right area to move into. We understood colour and workflow and knew that in order to stay innovative we had to look to the emerging technologies that harnessed our existing skill sets. At the time, the HP Designjet 5000 was just launched, it caught our imagination and slotted straight in to our existing business. We still run film out for some clients but our core business is now firmly in the wide format camp."

The latest edition to the wide-format team at Doubledot is the ColorSpan 5465, supplied, installed and supported by image management specialists, City and West End Solutions. With the installation of this new printer, Doubledot continue the tradition of only buying the latest equipment available - as this is only the second one in the country. The brand-new ColorSpan 5465 combines the ultra-high quality of an aqueous thermal inkjet printer and the outdoor durability of a solvent printer with the media flexibility of a UV-curable inkjet printer. With a 54" print width and a series of integrated tables that extend outward to accommodate rigid media up to 8 feet in length as well as the integrated roll-feed as standard, the ColorSpan 5465 offers print shops a flexible, direct-to-substrate print solution that will cut hours off production time and thereby increase profits."The turnaround time on production is amazing," adds Tony, "by printing directly onto substrates, we cut out the vinyl printing part of the process and the added bonus when using the ColorSpan is its instant dry so we can laminate immediately if the job requires. We're so pleased with it and the savings are such that we're able to offer a trade service now to local small sign companies that don't have the room or capital to install this kind or size machine."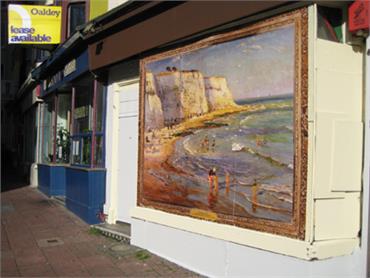 Doubledot are really putting the machine through its paces, having already completed jobs printed directly onto Perspex, Display boards, Corex and Foamex but one area they have had particular success with, is anti-graffiti displays. Previous Environment Secretary, Margaret Beckett announced at a meeting with council leaders, "The quality of the area in which people live has a huge impact on the quality of their lives in general. That is why improving the quality of Britain's local environment is a top priority for me and for Defra (Department for Environment, Food and Rural Affairs)". One of the ways councils and local government have addressed this is by covering boarded up shop fronts and offices with large format printed boards, coated with a special anti-graffiti laminate. Doubledot has worked closely with numerous councils across Britain, to help combat this particular issue. The environment improvement team at Brighton and Hove City Council is one example and their primary objective was to cover the boarded up areas with an anti-graffiti solution to enable ease of cleaning should it be vandalised again. In the process of doing this, they've found that by fixing a solid colourful large format digital print to the building instead, they have in effect, taken away the vandal's "blank canvas" and they simply don't get vandalised any more. The project, it seems, is a complete success.Doug Gilbertson of City & West End Solutions comments, "With the introduction of the ColorSpan 5465, the print and market applications have widened - its flexibility gives print shops new revenue streams and an efficiency they won't have encountered before. The installation went really well and the Doubledot machine was up and running in no time - which is testament to just how good the printer is - not forgetting our engineers!"For more information on the ColorSpan 5465, please visit www.cwesolutions.co.uk.
For more information on Doubledot and their trade open days, call 01273 492233 or email info@doubledot.co.uk.