Konica Minolta launches new hardware and software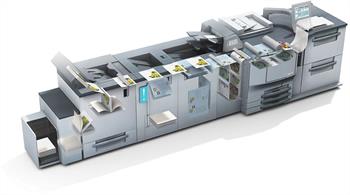 At Digital Print World two new modules from the KM's Printgroove suite of software solutions will be demonstrated for the first time.• Printgroove POD Serve is a web submission application with real-time status verification.• Printgroove POD Guide is a workflow/job management application offering system-wide monitoring and job ticket management through to billing.Also demonstrated will be Printgroove POD Queue, a print/device management utility with last-minute job ticket editing functionality.Show visitors will also see a new colour digital print system unveiled as an entry-level addition to the bizhub PRO range of production print systems. Current models in the Konica Minolta bizhub PRO line-up will be demonstrated including the groundbreaking bizhub PRO C6500e colour digital system.Capable of handling up to 300,000 A4 sheets per month, the bizhub PRO C6500e has an output capacity of up to 3,900 pages per hour (65 pages per minute) in both full colour and black and white. Visitors to the Konica Minolta stand will be able to see the bizhub PRO C6500e demonstrated with the new
PB-501 perfect binder unit. The PB-501 integrates hotmelt gluing technology into a fully automated, perfect binding production process, providing output flexibility paired with attractive low running costs.The bizhub PRO C6500e is currently the only colour digital print system to offer on-line perfect binding. Sheets can be bound between a minimum of 15 sheets (30 pages) and up to a maximum 30mm spine width (300 sheets/600 pages when 80 gsm is used), including z-folded sheets. Automatic in-line trimming of covers to the exact size required ensures sophisticated print products every time without manual intervention.Visitors can also see the bizhub PRO 1050e production print system with a maximum throughput of 6,300 mono impressions an hour (105 prints per minute). Designed as a complete document production system with optional on-line print finishing units for six-way folding, booklet making and post inserting, the bizhub PRO 1050 can print variable data onto stock up to SRA3 to generate profit for commercial printers.For Konica Minolta Business Solutions, Jos Kelly, Head of Production Print says of DPW, "At the show we are taking a larger stand to accommodate the comprehensive product portfolio that Konica Minolta can now offer the commercial print industry. The Konica Minolta digital print range now takes in high-speed mono and colour systems coupled with a complete range of software solutions to manage every aspect of the digital production process. The launches we are planning for the show will ensure strong visitor interest in the Konica Minolta stand".