Log On Now To Update Your Entry
Take time out for a test drive. Check out your listing in the www.interprinter.co.uk then add the details to attract new print business in your locality. Look up some new contacts for delivering last minute print across the UK in the most carbon conscious manner.With that completed, you can proudly say you are doing your bit. You are now a member of the UK's carbon free print portal, send and receive print network.As easy as falling off a log? Well to be honest no, you need to follow a few guidelines starting with the logon. Follow these tried and tested steps and you will be up and running in a couple of minutes, which spookily is the time it takes to send a poster from Exeter to Edinburgh.STEP ONE: Go to www.interprinter.co.uk You are now at the new CSN live website where half way down the front page you will see the search facility to locate print shops across the UK.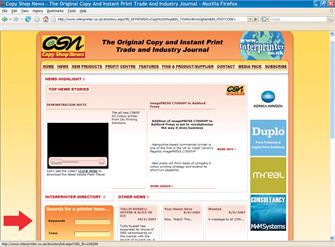 STEP TWO: Search by Town or postcodeSelect from the choice of local print shops, select your own entry or report immediately if you are not listed.To the right you will now see the basic details that need to be proof read,
updated and regularly self edited.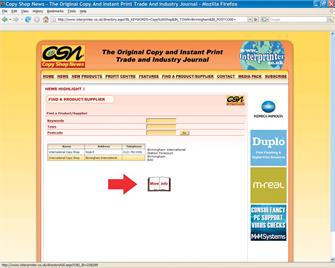 STEP THREE: Click on "More Info"This will take you to the login panel where you can request your own unique password to be forwarded to you, please remember to include your preferred email address.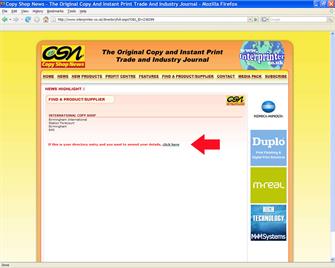 STEP FOUR: Once you have received your login details, fill in the logon panel and proceed. At busy periods your reply may take a short while. You will receive an email to take up the last stage at your leisure.

STEP FIVE: Next page top left, 'update entry' and away you go, do hit save at the bottom of the next page after you have completed your 'Company requested Details' and proof read your contact details.Logo upload and other stuff will follow. If you have completed the above you will not miss out of any future feature and more importantly you will open to take on more local print.Now that the CMS system is up and running we will catch up with any missed faxed forms received here at CSN, unless of course you get there first.We must once again thank our sponsors for contributing to the build cost and allowing all our subscribers free listings in the directory. In the future we will be offering certain broadcasting rights by e-zine to these special suppliers but be rest assured any specific offers to you will be vetted and not too frequent. Your feedback, as usual is requested at every stage of the development as this carbon conscious print distribution network is designed for you, by you. The words of encouragement and direction have been too numerous to list; but thanks to the un-official steering committee we have created a workable print industry tool to move us all closer to our CSR statements. Several large corporate print customers are already showing interest in reducing their own carbon footprint in print. Do check out this months Green Pages.Ideas please, not on a postcard, that costs fuel, by email to feedback@interprinter.co.uk