Last Month's Challenge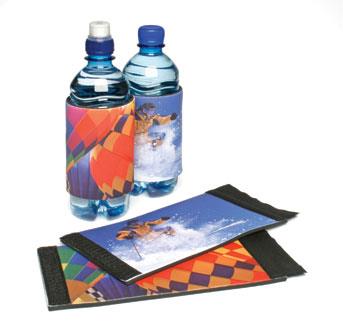 This one is great for the summer, as we could all do with keeping our beer chilled. Yes with our auspicious readers' help we have found a printable stubbie.A stubbie is a can or bottle overcoat that seconds as a rather swish wrist band to wear between bars. Talk to Listawood who manufacture blanks to heat press onto.Stubbie Coolers are the latest addition to Listawood Trade Supplies' extensive product range. The neoprene based insulators are great for keeping your drinks cool in the summer heat. Laminated with a white polyester fabric top, they are easily decorated by dye sublimation in a flat bed heat press and can be custom printed for events, functions and parties.Images can be heat transferred in 30 - 35 seconds at 200ºC. They are sized to fit most standard drinks cans and bottles and have a Velcro fastening which makes them easy to attach and remove."The new Stubbie Coolers are ideal imprintables for summer promotions. Supplied with a white top ready for dye sublimation printing, they are the perfect model for branding." Stated Jeffrey Pearce, General Manager of Listawood Trade Supplies.For more information on Listawood Trade Supplies' latest products, call their sales team on 01485 529762 or email sales@listawoodtradesupplies.com.
Alternatively visit their website www.listawoodtradesupplies.com.