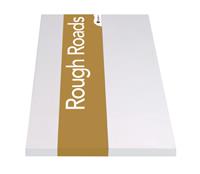 Arctic Paper's introduction of the market's 'roughest' paper
Arctic Paper's uncoated Munken Design Range introduces MUNKEN ROUGH, a major new addition to the print and design market - three new papers with a 'rough', toothy surface. Providing exceptionally high quality four-colour printing and image reproduction, these unique grades also have a distinctive natural and bulky paper feel.
The new products within the Munken Design Range are:
Munken Polar Rough, Munken Lynx Rough and Munken Pure Rough and come in three shades - crisp white, natural white and cream. This brings the total number of products within the Munken Design range to six different papers, in three shades and with two distinctive and complementary surfaces.
Garry Colyer, Managing Director for Arctic Paper UK commented "Research has indicated that the current trend is for rougher paper surfaces which are becoming progressively more popular with designers, creative printers and publishers who are increasingly striving to reflect a product's characteristics with the help of the paper they choose. Munken Rough range, with the market's roughest surface, is now ideal to use instead of wood containing papers which are specified because of their extremely rough surfaces. Arctic Paper's Munken Rough range now provides a woodfree design paper with this unique toothy feel which is easier to print on and gives excellent print results".
Garry added "Bulkier papers are growing in demand because they have the thickness and feeling that coated papers lack. They give a totally different experience and are easier to get that 'fibre feeling' without printing problems. Today, designers are confidently working with the combination of ppaper surfaces; we feel that designers will be just as pleased as we are with the new Munken Rough range and the expressive possibilities of these three new surfaces can provide."
A campaign is built up around the new Munken Rough range qualities with the help of artistic close-ups on different tarmac roads. The photos were taken by the Swedish photographer, Jens Andersson. The campaign theme, Rough Roads, is in-line with the unique rough feeling of the three papers. A Direct mailing campaign is being sent to 45,000 creators, printers and publishers throughout Europe. The mailing gives the opportunity to order a box with 15 art prints with Jens' photos printed on all six Munken Design paper qualities.
Samples and dummies of the entire Munken Design Range are available from Dummyshop,
www.arcticpaper.com/Dummyshop