INTRODUCING JOSH ELLSWORTH AND HIS 2010 PREDICITIONS

Many of you will be familiar with the name "Josh Ellsworth", since he is a well known figure in the apparel decoration world. Josh is known throughout the industry as a Cad-Cut® materials specialist, with over 1000 forum postings on T-Shirt Forums. Josh is the author of the "Heat Press Yourself" blog, and the "star" and producer of many heat printing related YouTube videos. Josh is now the General Manager of Stahls' Cad-Cut® Direct, a member of the GroupeSTAHL association. He will be continuing to develop "How to" videos, writing articles for industry trade publications and much more.

GroupeSTAHL asked Josh for some of his predictions for 2010 and he responded with the following points:

Relating to Sales & Marketing Josh predicted:

• Decorated Apparel Businesses with websites will have to render a preview of decorating options to get more orders. Larger decorators will continue to leverage t-shirt generators, while mid to small size decorators can compete by utilising videos on product pages.

• Savvy business owners will start a Facebook page and use tools such as photos, slideshows and video to mass merchandise to customers.

• Some decorators will jump into social media marketing and become so engulfed to the point where it is negatively impacting their productivity. Smart decorators will select one or two outlets and maximise them.

Turning to Trends, Josh made the following predictions:

• Some of the unemployed workforce in the UK, Europe and the US market, will start their own business and need to order decorated apparel. Given that not many small companies start with over 40 employees - screen printing will start to become passé for decorating corporate apparel. Embroidery continues to thrive with heat transfer technologies growing much stronger.

• Performance apparel continues to grow and pose new challenges. More manufacturers will source or make lots of fabrics abroad making dye migration challenges the norm. Decorators who can combat these issues will be in demand.

• With the emergence of full colour options across all imaging platforms, some schools will begin to understand that they do not have to be limited to 1-3 colour logo/mascots. Logo redesigns will begin to take place across the country and the power of digital printing will be harnessed for imaging on signage, apparel, books and promotional products.

• Decoration of footwear, braces, gloves and protective equipment will catch on. Decorators who can accommodate these items will make great profit margins and differentiate from competitors, opening doors to new opportunities.

• Screen Printers will reinvent themselves to be very inclusive of customization technologies. This trend has started to happen with the buzz of DTG, however, wise printers will realise that there are other customization technologies such as Cad-Cut® and Print & Cut that are better suited for certain jobs.
• The availability of vinyl cutters and start up heat transfer businesses in the under 1000 price point will create a BOOM in the availability of customization technologies. Now when a team, business or individual needs decoration, they find customization to be available locally and to be faster than screen printing.

Ensure that you keep up to date with Josh and see what is happening in the exciting, real world of garment decoration!

Please visit Target Transfer's website for more details at www.TargetTransfers.com


Duplo UV Coater Helps Bring Funky Pigeon To Life

Bristol-based printer Spilt Ink Studio has revitalised its online personalised greeting cards offering with the launch of a fresh new web2print brand and investment in new coating technology from Duplo.

www.funkypigeon.com was launched late last year and is a completely new consumer website offering a range of personalised gifts branded with some very high profile licenses including "I'm A Celebrity Get Me Out Of Here". The launch of the new website replaces their previous site www.remind4u.com. Explains Richard Pepper, Managing Director, Spilt Ink Studio.

"We felt we needed to move forward from a traditional site which hadn't changed much since its conception in 2002; then Funky Pigeon evolved a into new brand and defined new emotion to build upon. Coupled with the improvements at the front end we wanted to enhance our already well established reputation for high quality finished products, by investing more in our finishing line. We purchased the UV coater machine from Duplo as it complemented our two HP Indigo 5000 series machine, and produced a truly excellent finish on higher quality card."

Spilt Ink Studio purchased the first UK-based Duplo Ultra 205A UV Coater in September 2009, after the product was launched to the market in the summer of that year. The greeting cards are printed on the HP Indigo 5000's, coated using the new Ultra 205A, then finished using their existing line of two DC-645 Multi Finishers for slitting, cutting and creasing followed by folding using the Duplo's MKF-35 Knife Folder.





The Ultra 205A also has to cater for up to four users as well as keep up with the two HP machines. With thousands of items printed every month, it was a major requirement that the new coater did not jeopardise production speeds and cause bottle-necking.

Richard continues "We have managed to change our business in a very short time. Whilst our litho business and trade business grows, we have now successfully entered into the consumer market-place with a range of interesting and relevant brands. Our ethos remains quality with speed, and our new investment of the Ultra 205A certainly ticks all boxes. Our whole finishing line is imperative to our business. If any part of the finishing line goes down, our operation would come to a stand still and when you are working in the B2C market, the consequences could be critical. We have every faith in our DC-645 MultiFinishers and this has been complemented by the new Ultra 205A UV Coater which keeps the impressive reliability and usability that the other Duplo machines have, whilst adding something different to our business."

The company saw an increase in demand with the launch of www.funkypigeon.com in time for the Christmas rush, and the Ultra is more than keeping up with the two HP Indigos. This has allowed the machine to also be used in conjunction with other presses to coat other applications such as calendars and business cards.

"There is no doubt the Ultra has greatly improved our product offering. We have gloss on the outside to really bring the cards to life and matte on the inside to protect the cards whilst still allowing them to be written on. We insist on the highest quality of card and print process, as greeting cards are a memorable keepsake. When a card is personalised with a name and special message, the recipient will always remember the day they received it." Comments Richard.

With the improvements to product quality, coupled with the new website which is now planned for a significant marketing drive, the future looks rosy for Spilt Ink Studio.

Visit www.funkypigeon.com to find out more and visit www.duplouk.com/uv for more information regarding the Duplo Ultra 205A UV Coater.

Go out in Colour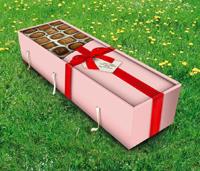 Well we get asked for just about everything else so don't be surprised if you are asked to supply more than just the order of service.
CreativeCoffins.com provides a green solution for a distinctive funeral.
Environmentally sympathetic and certified non-toxic, the carton board coffins are suitable for both burial and cremation. There is a large range of pre-designed coffins that are available through your local funeral director.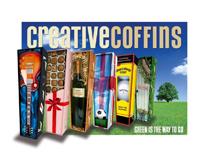 Oliver Coles at Creative Coffins also offers a Free Personalisation Service so that you can add a memorable saying, name or dates to all of our designs.
Your customers can create a completely new design to their own specification.
To view the pre-designed range and to find out more about the personal service, select one of the categories shown at www.creativecoffins.com
Print on Pens
We are receiving lots of reader enquiries for these handy promotional presents.

Who do you use? shareasupplier@copyshopnews.co.uk

On the subject of referrals, CSN has listed many of our readers preferred suppliers in a Finda Supplier search engine, under a trade tab on your www.interprinter.co.uk directory. To expand the matching of print products to suppliers a free directory listing form was enclosed in this February's magazine for you all to invite your best suppliers to feature in our print suppliers matching service.

If you have strong recommendations for more than one supplier please copy the form and invite all of your trusted and vetted experts.