Recycling competition winners receive iPods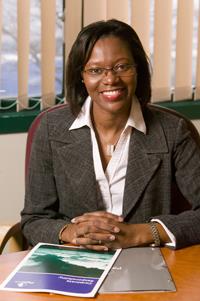 Veronica Heaven of PaperCo

Andrew Wilson, managing director of Unity Print and Publishing was the winner of the PaperCo Media Pro 09 competition to guess the weight of a pallet of waste paper. His guess was 182kg, just three kilos short of the actual figure. He wins an iPod Nano with a second prize iPod Shuffle going to Joanna Haslam of Loop.

Veronica Heaven, corporate responsibility director of PaperCo, says: "The pallet of recycled paper was to draw attention to our Born Again closed loop recycling service. This is a complete product in waste out service that starts with the meticulous sourcing of environmentally sound papers from carefully selected mills in Europe. The customer's waste is then subsequently collected and the recovered material returned to the paper mill to be reprocessed as new product. Media Pro was a great show with plenty of on stand interest and an enjoyable champagne reception co-hosted by PEFC, the forest certification scheme."

Andrew Wilson says: "I thought Media Pro was an excellent event and I very much applaud PaperCo's decision to support it when it could have been all too easy in these times to have passed it by. I have been aware of PaperCo's environmental credentials for some time now, so it was good to see them highlighting this to a wider media related audience. I particularly liked the way that they did it; we tend to associate pallets with a finished job not a pile of waste paper. I was also present at PaperCo's press event at the show, where they unveiled the winners of a student design competition (Brief Encounters) they had been running. So well done to PaperCo for wo great initiatives for our industry - sustainability and education."