DUPLO INCREASES BOOKLETMAKER RANGE WITH ALPHA SADDLE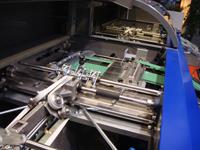 Duplo International has further extended its range of bookletmakers by introducing their first ever automatic saddle stitcher, the Alpha Saddle, in what can only be described as their most important product announcement of recent times.

Capable of producing over 6,000 64 page booklets an hour, the Alpha Saddle is also able to produce a staggering 12,000 booklets an hour when fitted with the optional gutter cut knives. These high production speeds are achieved by using the unique Automated Precision Control or A.P.C. set transfer units. Unlike any other flat sheet collating system on the market, the transfer units have the ability to transport 2 complete sets simultaneously onto the saddle. High production speeds are also maintained when feeding from the higher capacity DC10/60 Pro collating towers.

Productivity is further increased by allowing any incomplete sets to be automatically diverted without stopping production.

Terry Wafer, Graphic Arts Product Marketing Manager comments "We have been working extensively to produce and perfect a saddle stitcher. This project has taken 3 years of hard work and research together with our technical department. It is an asset to our range and encompasses everything we expect from a Duplo machine."

As with the other bookletmakers in the Duplo range, the Alpha Saddle also has a modular approach. The patented system consists of a DC10/60 Pro collator, set transfer unit, a scoring and folding section, saddle stitching section and three knife trimmer. Due to this unique design, further towers and set transfer units can easily be added as a business grows. The DC10/60 Pro towers can be arranged in a number of parallel and series configurations to suit both the customers jobs and space requirements.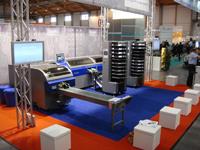 In addition, the heavy duty construction of the Alpha Saddle enables a continuous and accurate book production from 4 to 200 page books, which is suitable for users who do in excess of 100,000 books per month. The Alpha Saddle is capable of producing books from a range of both digital and litho papers up to 300gsm in weight.

The design of the Alpha allows for an extensive range of book production, from books as small as 90mm x 95mm right through to 353mm x 305mm - providing the printer with a vast booklet portfolio, with the ability to produce everything from small pocket books up to A4 landscape publications.

Automatic Precision, like with all Duplo bookletmaking systems is a key feature of the Alpha saddle, allowing the operator to automatically set up all of the book parameters including the folding pressure within 60 seconds, which increases productivity and reduces wastage. Accessing each job from one of the available 100 job memories is both simple and easy to perform via the touch screen control panel.

The Alpha Saddle has been designed to use JDF data programming and connectivity is also further enhanced by allowing the customer to add their existing DC10/60 Pro and DC10/60 towers as well as the DSF 5000 sheet feeder.

"The Alpha Saddle has been designed to future proof businesses with the ability to integrate into a production print workflow and receive job tickets based on the international standard JDF format, enabling automated job set-up from data captured at the pre-press stage. Printers who have implemented JDF-enabled automation report impressive savings in materials and labour, as well as reduced cycle times and better visibility of operations for managers and customers alike." Comments Peter Dyson, Product Marketing Manager for Digital Finishing.

"Everything about the Alpha is about saving time and therefore cost. For example, once fitted, the gutter cut option on the Alpha can merely be switched off from the touch screen panel, unlike some other saddle stitchers where you have to remove it every time it is not needed and store it appropriately." States Wafer.
"Due to its design, the Alpha Saddle allows for excellent operator visibility and easy servicing access to all working parts, ensuring productivity levels are maintained with downtime and costs kept to a minimum." Adds Wafer.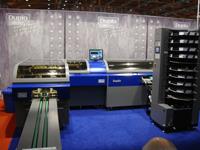 The Duplo range of bookletmakers starts with their entry level DBM 120 and continues with the DBM 350, then the DBM 500 and now finishes with their top of the range the Alpha Saddle. The Alpha Saddle can be further enhanced with optional extras including 6.35mm and 9.5mm gutter cut knives, ISG cold gluing system, DSF 5000 digital sheet feeder, an additional 2 hohner stitching heads, loop stitching and a hole punch unit.

"It was important for us to manufacture a saddle stitcher. There has been a demand for higher productivity and high quality thick booklets, and the only way to produce high quality thick books fast is using a saddle. We're giving our customers the machine they've been asking us for!" Concludes Robin Greenhalgh, Chairman at Duplo International.

Contact: Peter Jolly
Duplo UK Marketing Manager

01372 468 131
www.duplouk.com