Carry On Printing - with the new Bourg BSF Sheet Feeder.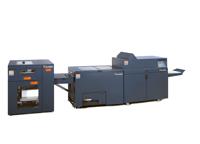 Large format finishing specialists Terry Cooper Services are launching the Bourg BSF Sheet Feeder into the UK market this month. It heralds a new era in high-speed, exceptional quality and increased off-line volume finishing for digital and variable data printing.

Designed to meet the needs of many print businesses that run different brands of printers, the new BSF Sheet Feeder has been specifically constructed to increase productivity by operating off-line. As a result, all printers are able to carry on printing whilst specific jobs are being fed into the next process ensuring no printer is tied up creating job queues and production downtime.

Key features include the new innovative air-table, which automatically aligns the stack to centre in seconds from any print carts such as Canon, HP, Océ, Heidelberg, IBM, Kodak and Xerox. The latest transfer technology reduces the risk of damaged sheets and stacking errors and by including two feeding compartments it can automatically detect double sheets, missed sheets or when each stack bin is empty.

The compartments can accept pile heights of 500mm for primary content and feed sheets up to 15,000 sheets per hour to various CP Bourg document-finishing modules. Paper handling sizes range from small CD-ROM booklets to the largest size currently handled by digital printers.

The overall automation and speed of the new Bourg BSF Sheet Feeder increases production time and therefore the cost benefits of using off-line volume finishing.

Chris Cooper, Managing Director of TCS says, "We are delighted to launch the Bourg BSF into the UK market. We pride ourselves in experience and our dedication to provide the best products for the industry. Time and again Bourg have proved that their products meet the challenges this industry demands"

For more information on this and all their products and services contact Terry Cooper Services on 0115 970 2248 or visit www.terrycooperservices.co.uk .