Alwan Color Expertise Presents Print Standardiser at Northprint Providing Out-of-the-Box ISO12647 Compliance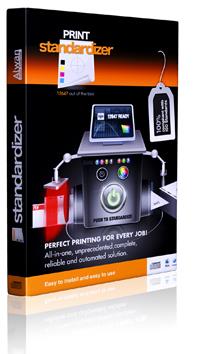 Print Standardiser, the graphic industry's first automated press quality control and ISO 12647 standardisation solution is jointly developed with X-Rite, leader in colour measurement and communication technologies. Developed to address the graphic industry's growing need for standards compliance, it provides an affordable and easy to implement 'out-of-the-box' ISO 12647 standardisation solution for analogue and digital presses.

Elie Khoury, President Alwan Color Expertise comments: "With Alwan Print Standardiser jointly developed with X-Rite, we bring the first automated quality control and total ISO 12647 compliancy to print production. It is an automated and stand alone tool that will remove many of the costs and implementation barriers publishing and printing professionals typically encounter during the ISO 12647 implementation process. Most importantly it offers a full return-on-investment in a record period of maximum six months in most cases."


Print Standardiser establishes a new class of standardisation in the graphic arts industry. The intuitive software wizard and interface allow users of any skill level to set their target printing conditions and achieve instantaneous compliance with ISO 12647 requirements. With Print Standardiser, users can match any ISO standard printing condition including Fogra 39 and GRACoL™ on each and every job thanks to the software's unique automated press tracking and Dynamic PressCalibration™ system which requires no human intervention to calibrate the press.

This solution allows printers to reduce make-ready time, match clients' standard proofs, and dramatically cut waste paper and ink consumption, hence increasing overall pressroom productivity and profitability by an average 15%.

An additional major benefit of Print Standardiser is that it qualifies the controlled press to ISO 12647 certification. It also delivers print reports proving ISO 12647 compliance for each and every job. Print Standardiser is available from Alwan and X-Rite approved channel partners.


www.alwancolor.com for info.