ARJOWIGGINS GRAPHIC INTRODUCES COCOON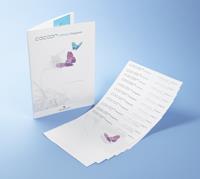 Cocoon is the latest step in Arjowiggins Graphic's extensive and fast moving research and development programme and will consist of two main substrates: Cocoon Offset and Cocoon Preprint. Cocoon Offset is a high quality, uncoated offset paper with industry-leading levels of whiteness, even when compared with papers manufactured from virgin fibres. Cocoon Preprint is an uncoated preprint laser paper, offering high levels of whiteness and suitable for litho laser preprint applications.

The range is produced using advanced ecological technology at the Greenfield S.A.S. mill, entirely from 100% recycled, FSC-certified de-inked pulp. The range offers market-leading environmental credentials and is produced with a low carbon footprint, making it an ideal solution for print and design jobs where sustainability is a key factor.

Angela De Vorchik, UK Operational Marketing Manager, Arjowiggins Graphic, comments, 'Our ongoing focus on research and development, combined with the expertise at Greenfield, has allowed us to develop Cocoon at a market-leading rate, bringing this product to market in a short space of time. Cocoon really encapsulates what the Arjowiggins Graphic brand is about - top-level environmental credentials with no compromise on product quality.'

As with all Arjowiggins Graphic papers, Cocoon includes environmental declaration sheets detailing the exact sustainability credentials of the range and providing printers with a clear guide to the product.

The launch is being supported by a direct mail campaign to printers and designers. 9,000 Cocoon Offset and Preprint sample brochures are being mailed and presented face to face, supported by 8,000 Cocoon Offset and Preprint pads and 1,500 Cocoon pens. In addition to this, 1,600 designers have been targeted with an e-bulletin highlighting the new range launch.

Cocoon Offset is available in 10 weights (80 - 350 gsm), all suitable for offset printing and converting. The range is ideal for applications including manuals, brochures, inserts, financial reports and invitations, Cocoon Preprint, meanwhile, is suitable for litho laser preprint applications such as letterheads, corporate documents, invoice forms and direct mail.

Cocoon is distributed by Antalis and James McNaughton. James McNaughton will be replacing its existing Take 2 Offset range with Cocoon, offering the same product with new branding and support from Arjowiggins Graphic.