DESIGNERS GET CURIOUS ABOUT PAPERS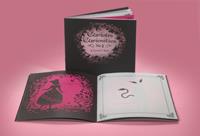 Antalis, has launched an innovative new mailer campaign to highlight the striking uses of the Curious Collection range of papers.

The campaign, called 'Curious Curiosities', will run over the course of 2009 and use different creative designs and themes to bring the Curious Collection products to life. Mailers will be sent to 8,000 designers and end users and over the course of the year themes will include Easter and a fresh take on tarot cards.

The first campaign concept is centred around a love story with a difference. The striking mailer, in story book format, tells the tale of a beautiful maiden and a chivalrous, handsome gentleman who fall in love at first sight but discover all is not what it seems.

The love story mailer uses a number of Curious Collection papers, including Skin Curious Collection Black 270gsm for its cover, Skin Curious Collection Pink 135gsm for the envelopes and 112gsm Translucent Simulator Clear and Skin Curious Collection Pink 270gsm inside. The end product showcases exquisite printing and finishing techniques, including fine detail laser cutting on the front cover.

Peter Harrison, Operational Marketing Manager Antalis, says: We wanted to come up with a concept that would engage designers and printers by showing how our papers can be used in different and creative ways. Having only recently become stockists of the Curious Collection we have chosen a long running campaign to truly engage with our target market.

The entire campaign was designed by Stocks Taylor Benson. Director, John Benson who is responsible for the work says: The Curious Collection is an exciting range, allowing us great creativity in designing these mailers. Its variety, accessibility and printability has resulted in eye-catching work that really shows the versatility of the range.

The unique paper collection is FSC certified, provides a diverse range of 24 colours and is available in a number of weights and sheet sizes with matching envelopes. The Curious Collection is suitable for all widely used print techniques, including offset lithography, letterpress, embossing, debossing, silk-screening, die-stamping and foil-blocking. All the colours in the range are guaranteed for pre-printing and subsequent printing with all colour and monochrome desktop laser and inkjet machines. For laser printing, compatible inks and other materials are necessary.