ARJOWIGGINS LAUNCHES CONQUEROR 100% RECYCLED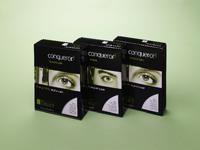 Arjowiggins has launched Conqueror 100% Recycled in the UK. This will be the first premium recycled paper to offer an extra white, extra clean and extra bright finish providing printers and end users with a high quality environmental paper solution.

Conqueror Recycled will now be available in two grades 25% and 100% recycled content offering the same printability as non-recycled paper. It is a key environmental addition to Conqueror, which is already FSC certified across the range worldwide, making it the ideal solution for environmentally-conscious printers, end users and designers looking for a quality, reliable business stationery paper. The paper is also carbon neutral in the UK and in Germany.

The launch of Conqueror 100% Recycled is the result of 18 months research and development to create a product with maximum quality and aesthetics. Arjowiggins operates a special and dedicated selection of FSC post-consumer waste and its mill, Greenfield S.A.S., utilises a tailor-made and optimised de-inking process which is totally chlorine free to ensure the production of the cleanest FSC pulp. Using this highly sustainable pulp, the paper is manufactured in the UK and the entire process is green orientated, dedicated to saving water and energy.


Conqueror 100% Recycled is available in the popular CX22, Laid and Wove finishes, in Brilliant White Recycled and Diamond White Recycled. The range comes in A4, SRA2 and B1 sizes, with a DL envelope for each finish. A watermarked version is available in 100gsm, A4 and SRA2 sizes. All substrates (100gsm) are guaranteed for printing across colour and mono laser and inkjet technologies, with CX22 and Wove (100-160gsm) also suitable for copiers.