PEFC celebrates 1,000th Chain of Custody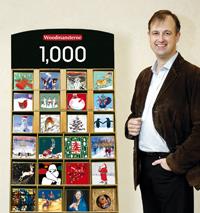 PEFC UK has announced has announced today that the growth of its programme in the UK has reached a landmark milestone, with the award of its 1,000th Chain of Custody certificate.

Fine arts and social stationery publisher Woodmansterne has become the latest company to join the PEFC programme, with its Watford production facility being award a Chain of Custody certificate. Founded in 1953, originally as a publisher of colourslides, family-run Woodmansterne introduced its first greetings cards in 1987, and now its products are distributed across some 25 countries worldwide.

Commenting on the award, Woodmansterne Managing Director Paul Woodmansterne, said; "As one of the UK's leading publishers of high quality greetings cards, we at Woodmansterne are committed to sourcing from sustainably-managed forests and are proud to demonstrate our support for sustainable forest management by being able to provide our customers with assurances that our source material can be traced back to forests certified to a credible certification standard such as PEFC's".

Ross Bradshaw, Director of PEFC UK said he was delighted that the PEFC scheme had reached such a significant milestone in the UK market. "Demand for chain of custody certification from the print and paper sector continues to be strong. From less than 70 printers with chain of custody certification in 2007 - to a figure currently approaching 350 - we witnessed more than a 300% increase in just 12 months. It is heartening to see that even in these challenging economic times; demand for chain of custody certification shows no sign of slowing." He continued, "The print sector alone now accounts for over a third of chain of custody certificates issued in the UK and the print/paper and publishing sector combined over half."

Bradshaw went on to state, "The rapidly increasing demand for chain of custody certification within the print sector demonstrates that environmental responsibility is clearly of growing importance to end-users, publishers, printers and converters. This ensures that the paper they use comes from certified forests and by undergoing Chain of Custody certification, printers can be confident in their supply chain and are able to meet customer expectations on environmental provenance.

"As a result of this rapid take up of chain of custody certification, more and more publishers - both trade and consumer - are using the PEFC logo on their publications to provide environmental assurances on paper sourcing, and hopefully this will help PEFC become more widely recognised by consumers, and increase its prominence as a sign of sustainable paper sourcing for customers and stakeholders alike. Most of the UK's leading paper merchants are able to supply a range of both PEFC and FSC certified papers to those printers seeking to capitalise on the increasing demand for greener products."