SEAL GRAPHICS NEW MEDIA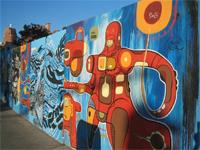 SEAL Graphics has added 'UV Sol Lam' laminates to its extensive range of films and digital print media.

UV Sol Lam is a highly competitive range of durable, pressure-sensitive,
solvent-based PVC lamination films that provides excellent protection and
enhances the finish of the output of all digital print technologies,
especially those produced using UV-cured inks.

These high quality films are perfect for both indoor and outdoor use,
providing a life of five and three years respectively, with the finishes
coming in a choice of Matte, Semi-Matte and Gloss.

The films contain UV protection in the form of UV absorbers within the
adhesive system that protect against damage and fade caused by both UVA and
UVB exposure when sited outdoors.

All finishes utilise a release liner which is a silicone-coated, yellow
glassine and they are available in roll sizes from 1040 to 1540mm wide by 50
or 100 metre lengths.