Enhance your profitability with perfect binding systems from FastBind: Exclusive Report from Drytac at Photokina in Cologne.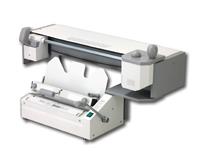 At this year's Photokina, the largest imaging show in the world, Clare Mooney, Sales and Marketing Executive from Drytac Europe, reports back to Copy Shop News about the latest innovations in Perfect Binding Systems, another way for Copy Shops to enhance their profitability and give them an advantage over local competition.

Imagine, being able to create a hard cover book with your customer's logo, graphics or photos while they wait. The possibilities are countless. You can produce genealogies, personal event books, scrapbooking, educational books, real estate books, church books, and much more.

FASTBIND Elite binding machines offer the largest flexibility, carrying out the job of several binders in just one machine. It quickly produces hard and soft cover books as well as Manager covers, tear-off pads and strip binding. The end result is perfect binding that is strong, square and affordable.

In addition, the FASTBIND Elite features the exclusive Paper Grain Opening ("PGO") system. Unlike other spine rougheners that grind the spine creating lots of noise and dust, the PGO opens the paper grain with very little noise and there is no paper dust! The operator can control the number of PGO passes that need to be made to ensure a solid bind. The optional cover trimmer enables the bound book cover to be flush trimmed for the perfect finish, without the requirement for a guillotine.

And on top all of this, it is easier to learn than an office copier! Anyone can be making professional quality books and reports in minutes. There are no set-up times or book format adjustments. It self adjusts for book thickness from 2 to 400 pages.