DUPLO EXTENDS ITS RANGE WITH NEW A3 DUPRINTER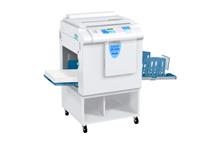 The DP-J450 is Duplo International's new entry-level A3 Duprinter which has been introduced to complete their existing range. The sleek design, based along similar lines to the DP-S series and the recently launched DP-C series, gives the DP-J450 a really fresh and modern look, perfect for any school, office or print shop.

Duprinters are a special type of office printer which can produce multiple copies of the same document in the fastest and most economical way. Documents are delivered to the machine by either scanning of a hard copy original or sending electronically from a computer. The document is transferred to paper via a simple rotary 'ink and master' system adapted from litho print machines. This enables the Duprinter to print at an astonishing speed with cost-per-copy falling well below the average photocopier click charge as the print volume rises.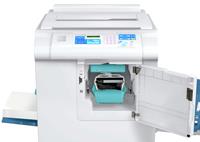 This new Duprinter produces high quality 300x600 dpi prints, derived from a High Definition (HDi) master and a selection of high density inks. Blemish-free solids, crisp text and smooth/progressive halftones are all standard results on this fantastic new machine.

The DP-J450 offers a large range of common office functions to help maximise versatility. Features such as enlargement/reduction, text/photo mode, print darkness and book shadow erasure ensure that any job can be tailored to the customer's needs. In addition, this Duprinter has extremely low power consumption and as such is listed in the Energy Star Program.

"Our new Duprinter complements the existing range and with its multiple features it offers our customers yet another fantastic product to choose from. This combined with the fact that it not only will save you money but it is kind on the environment makes the DP-J450 a must have." Comments Angela Osborne, UK Trade Manager.

For further information please contact:

Duplo International

Tel: 01372 478223

www.duplointernational.com